THE modern meteorologist relies on computer models for forecasting. Coupled atmospheric-ocean models, known as general circulation models, are favoured for medium to long-range forecasting with these models forecasting an overall and quite rapid general warming at the north and south poles. In accordance with this forecast, there has been a general decline in the extent of sea ice at the Arctic. At the Antarctic, however, sea ice has increased in extent, at least over the period of the satellite record, Figure 1.[1]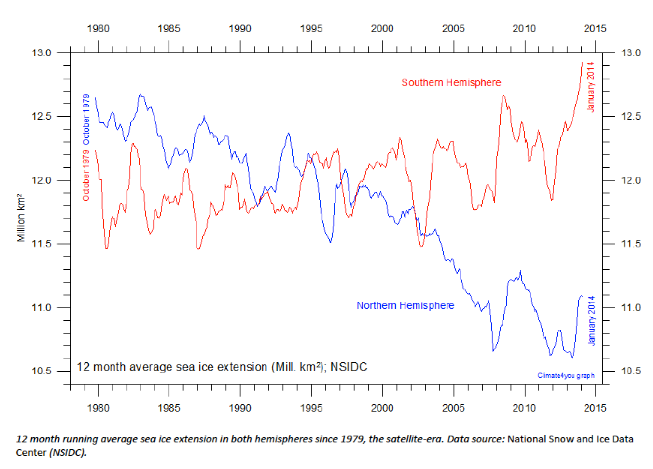 I'm interested to know what might have driven the overall decline in the sea ice at the Arctic, and increase at the Antarctic, over the last thirty or so years. According to mainstream climate science, increasing levels of atmospheric carbon dioxide would drive the melt. But what would drive the increase?
A long-range weather forecaster who relies on a knowledge of solar and lunar cycles, rather than computer models, is Kevin Long. He claims that when there is more sea ice at the Antarctic there is generally below-average rainfall and heavier late season frosts in central Victoria.[2]
In an explanation of the origins of our understanding of the Southern Oscillation, which the mainstream climate science community believes has a major affect on rainfall over eastern Australia, Donald R. Mock from the US National Oceanic and Atmospheric Administration (NOAA) suggests early researchers dismissed any direct influence of solar activity on the phases of the Southern Oscillation, but took an interest in the possibility of a connection with the polar circulation particularly the extent of sea ice at the Antarctic [4]. Nowhere in this explanation, however, is an extraterrestrial link, whether lunar, solar or planetary, offered.
A fellow I know who takes an interest in solar-terrestrial physics because his business of installing radio and television antennae depends on it, claims a relationship between the global sea ice anomaly and lunar cycles. In particular, Siliggy claims that the global sea ice anomaly goes up when the moon is new at apogee and down when the moon is full at apogee.[3] On January 1 and January 30, 2014 there was synchrony between perigee and the new moon.[3]. I can't see a period when there is synchronoy between new or full moons at apogee until March 5, 2015, when the moon will be full at apogee.[3]
****
[1] Ole Humlum Climate4You update for January 2014 http://www.climate4you.com/Text/Climate4you_January_2014.pdf
[2] Kevin Long summer forecast http://thelongview.com.au/documents/FORECAST-2014-No1-SUMMER-Kevin-Long.pdf
[3] The moon orbits the earth in an ellipse, not a circle, and so there are period when it is closer (perigee) and further away (apogee) in each one-month cycle. Also during this cycle there are periods when the moon is the same side of the earth as the sun (new moon) and on the opposite side of the earth to the sun (full moon). For new and full moon phases and perigees and apogees for 2014 see Lunar perigee and apogee calculator at https://www.fourmilab.ch/earthview/pacalc.html
[4] The Southern Oscillation: Historical Origins by Donald R. Mock, written 1981. http://www.esrl.noaa.gov/psd/enso/misc/hxsoi.html