SOME say that fuel reduction burning harms the bush. Others say it creates and maintains healthy vegetation, and avoids uncontrollable wildfires. Natural science is unlikely to resolve the debate, since both sides can produce refereed papers to support their views. Clearly, not all refereed papers are correct, but it is a mammoth task to track down all errors, and those with poor philosophy may be swayed by numbers of papers, rather than quality. Others may be fooled by authors with high sounding academic titles. A professor must be right. Some papers are statistically dodgy, and others simply omit part of the truth.
At the same time, the news media offer their partial truth with pictures of leaping flames, swooping water bombers, and convoys of fire trucks. Politicians see photo opportunities, and offer carefully selected sound bites. We see little of the post-fire benefits of bushfire. Does philosophy have a role to play?
In a multi-cultural society, why not borrow from the Hindus? Their trinity is Brahma the Creator, Vishnu the Conservator, and Shiva the Destroyer. Bushfire includes all these processes, but the news media, environmentalists, and some research scientists, usually show us only the face of Shiva, or even that of his cruel wife Kali.
The Australian public need to know the creative and conservative roles of Brahma and Vishnu, in the form of nutrient release, improved vegetation health, growth, flowering, seed production and germination, and the innocuous nature of fires in light fuels. Saraswati and Lakshmi have roles to play too, in bushfire research, education, and human well being.
The news media can help to restore some philosophical balance, by shedding the shackles of boring sensationalism. I realise that twenty metre flames are more exciting, to many, than mild flames, less than a metre high. Blackened forest is more visually startling than tiny emergent post-fire seedlings. But is it not important for journalists to tell the whole truth?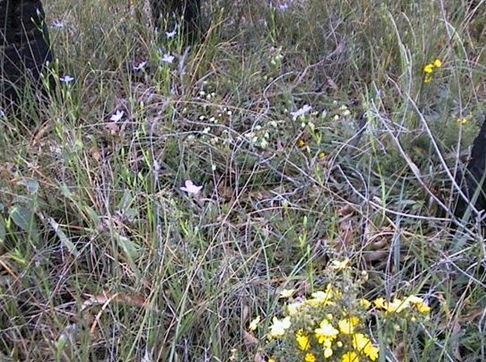 © David J. Ward (aka Green Davey) March 2014
*******
Picture of wildflowers in John Forrest National Park, Perth, one year after a mild spring fire.
Other posts from David Ward include:
http://jennifermarohasy.com/2009/04/the-mathematics-of-connectivity-and-bushfire/
http://jennifermarohasy.com/2005/06/noongars-knew-best/