I HAVE repeatedly argued that it is important for Australians to have a better understanding of natural historical temperature variability. I have also stressed that this can not be achieved by the Australian Bureau of Meteorology reporting on a contrived national annual average temperature each year, particularly given that this mean is based on an adjusted and homogenised official record that only begins in 1910.
In a recent letter to Minister Hunt I suggested that the official temperature record for individual localities, where possible, should be extended back in time. I reiterated that the current start date of 1910 for all official records is arbitrary and excludes valuable temperature recordings including those made through the Federation Drought (1896 to 1902).
In recent correspondence concerning my letter to Mr Hunt (but not addressed to me, so I can't share it at this moment) the Bureau has insisted that temperature records prior to 1910 were reported on more informally and in a range of standard and non-standard ways and are therefore unreliable. Furthermore, it is claimed in supporting materials, that there is no evidence to suggest that the late 1890s and early 1900s were exceptionally hot. A paper by Linden Ashcroft, David Karoly and Joelle Gergis (Australian Meteorological and Oceanographic Journal, Vol 62) is cited in support of this claim.
The Ashcroft et al. paper is not a study of the historical temperature record per se, but rather uses a two-step homogenization process to correct pre-1910 data for select locations in south-eastern Australia.
BREAKING NEWS… Dr Dennis Jensen MP states in the Australian Parliament that the Bureau of Meteorology plays fast and loose with the data and calls for an AUDIT. Watch on YouTube http://youtu.be/WQDjX9uVYMo ****
I am interest in getting a better understanding of the methodology used by Ashcroft et al. and also the reliability of the historical temperature data.
Given the statistical approach they employed, I wonder, for example, if they may have inadvertently and incorrectly adjusted down very hot days during the period of the Federation Drought?
Bourke in central western New South Wales is one of the localities used by Ashcroft et al.
Ian George, a past contributor at this blog with a particular interest in temperature data, has previously brought to my attention adjustments made to data for Bourke in January 1939 with the raw temperatures being reduced by up to 0.9 degrees Celsius in the homogenised official data set. Was a similar methodology applied to the earlier data series by Ashcroft et al.?
Regarding the reliability of the historical data: when was a Stevenson Screen first installed at Bourke? How was the temperature recorded before installation of the Stevenson's Screen?
The following plot of the annual average maximum temperatures for Bourke theoretically based on the raw unadjusted data was downloaded directly from the Bureau's website. Does someone know where I can find a plot of the adjusted official annual data for Bourke from 1910 and/or has someone a template that is useful for generating annual values from ACORN daily temperature data – or do I just need to get on and do this myself?
Does someone know how to apply the Ashcroft et al. two-step method to the pre-1910 Bourke data and what might this data series look like?
Update (11pm): A Stevenson Screen was installed at Bourke in August 1908.  An exceptionally high temperature recorded after this date, on 3 January 1909, has nevertheless been expunged from the 'raw' temperature record for Bourke by officers at the Bureau.  Even with these unofficial temperature adjustments, it's evident that temperatures in Bourke have not been increasing since August 1908, rather it would appear, that consistent with the raw temperature data for much of Australia, temperatures have been steady or falling.   The only way the Bureau can get an increasing trend is through data adjustments which should not be necessary anyway post the installation of a Stevenson Screen.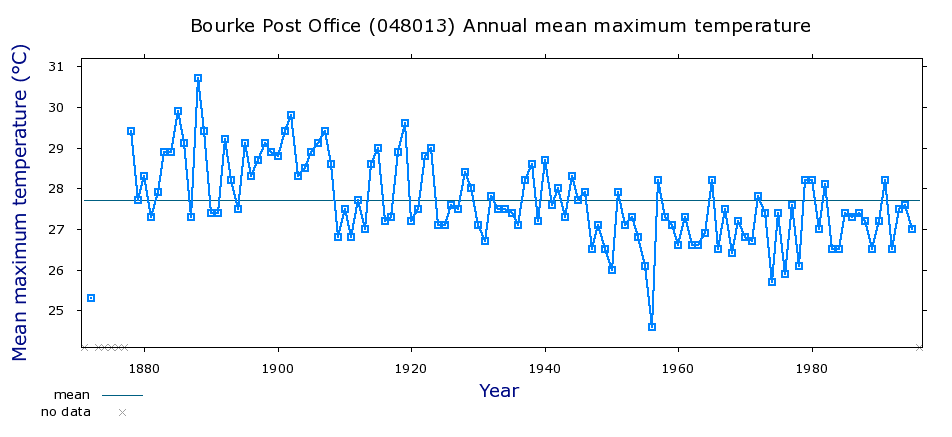 Click on the image/chart to see the entire data series and for a larger view.
***
Some Useful Links
Linden Ashcroft et al. 2012 paper in Australian Meteorological and Oceanographic Journal http://www.bom.gov.au/amoj/docs/2012/ashcroft.pdf
Some of my recent correspondence concerning temperature records and the Bureau http://jennifermarohasy.com/correspondence/
Comment made in previous thread by Ian George about Bourke data adjustments http://jennifermarohasy.com/wp-content/uploads/2014/03/IanGeorge_AnomalyComment.pdf