Not so long ago, the United Nation's Intergovernmental Panel on Climate Change, IPCC, released a report about how it is now hotter, and that there is a 95% chance this has been caused by human activity.
This key finding was from just part 1 of a 3-part report. Part 2, is probably more relevant to those on the land as it will discuss "impacts" including how changes in temperature are likely to affect rainfall. Part 2 is not due for release until March 2014.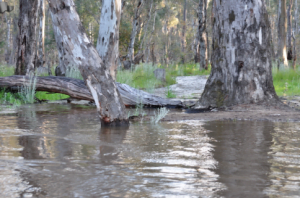 But it is possible to get a sneak peek by reading some of the peer-reviewed papers that will contribute to the second report. According to one of these by a team from the Centre for Australian Weather and Climate Research, CAWCR, which is a partnership between the Bureau of Meteorology and CSIRO, there may be an overall 1.8% decline in rainfall in the Murray Darling Basin [1].
Arriving at this -1.8% value involved considering the output from 27 different General Circulation Models, GCMs, run by 27 different teams of scientists from around the world. The final IPCC report due in March will include output from about 50 GMCs run by about 50 different teams, all providing a rainfall simulation for the Murray Darling.
If we consider just the output from the first 27, well it is significant that we don't know how accurate any single one of the 27 GCMs was at forecasting actual observed rainfall in the Murray Darling. This information is not provided in the paper by the scientists from CAWCR and will not be provided in the final IPCC report.
But we do know that individually the GCMs gave widely divergent results. That is, some of the models predicted a large increase in rainfall in the Murray Darling in the future, while others, under the same temperature scenario, predicted a large drop in annual rainfall.
If I was running the program at the IPCC and at the CAWCR I would insist that the climate scientists first grade the models from best to worst in terms of their capacity to actually forecast rainfall in the Murray Darling. After that, I would insist that only the best model, or combination of models, be used to provide a final figure.
But this is not how modern climate scientists think. They like to be inclusive and so the -1.8% value is an average from the 27 different GCMs, with the final value to be published in March likely to be an average from about 50 models. That is, the final value will be a sort of consensus including output from models that forecast a huge reduction in rainfall and also models that forecast a significant increase with no ranking according to actual ability to forecast rainfall.
If the IPCC had to use such forecasts for anything practical in the real world like growing a crop of food, it would soon be ruin. But it doesn't, it only has to make pronouncements.
****
[1] 'Climate projections for Australia: a first glance at CMIP5' by Damien Irving, Penny Whetton and Aurel Moise, published in Australian Meteorological and Oceanographic Journal, Volume 62, Pages 211-225.
A version of this article was first published in The Land newspaper on October 3.
The photograph is of a red gum forest not far from Koondrook flooding not so many years ago.