I'VE been some what dismayed by the approach of many agriculturalists to the development of a coal seam gas (CSG) industry in New South Wales. There have been many widely publicized claims that the CSG industry will pollute the air and water in particular through hydraulic fracturing, also known as 'fracking'.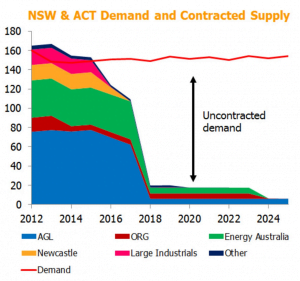 Some of the noisiest objectors are on the Liverpool plains and have claimed this new extractive industry threatens their groundwater aquifers. In reality, the affect of agriculture on the aquifers in the Liverpool Plains has been inadequately monitored and is probably significant.
This is not to say that because one industry's practices are less than transparent, it is OK for another to do environmental harm.
But I note that a new report from the NSW Chief Scientist includes comment[1]:
"Agriculture, mining and urban development have had very significant historical and current impacts. The impact of CSG alone is likely to be much smaller than the cumulative effects of these historical impacts… While CSG activities pose risks and many potential impacts, these need to be considered along with other major competing activities that are being conducted within a region." (page 116)
The bottom line is that gas is a low-cost and reliable source of energy.
Investments by US industry in gas over recent years is likely to help make that country almost self-sufficient in energy for the foreseeable future. Contrast this with Europe's recent investments in renewables that threaten to bankrupt the union [2].
Meanwhile NSW is facing its own energy security problems.
According to an opinion piece by Bill Collins [3] from the University of Newcastle:
"New South Wales is the only major state in Australia that does not have energy security. Its reliance on Victorian and Queensland gas, paired with the vital role gas plays in its homes and industries, have put it in a precarious position.

To put it bluntly, the state is heading for a major energy crisis in the next three or four years, and that will severely affect its future living standards and economic growth…

NSW should produce more of its own gas for energy security. But in early 2013, in response to increasing community concerns and land-use conflicts, the NSW Government introduced legislation to restrict gas exploration. Exploration is now excluded over much of the Sydney Basin, the part of the state most likely to yield CSG."
***
References
1. Initial report on the Independent Review of Coal Seam Gas Activities in NSW. July 2013
http://www.chiefscientist.nsw.gov.au/coal-seam-gas-review/initial-report-july-2013
2. Europe pulls the plug of its green future
Benny Peiser, The Australian, August 10, 2013
3. Coal seam gas and New South Wales' looming energy crisis
http://theconversation.com/coal-seam-gas-and-new-south-wales-looming-energy-crisis-16656