IT is perhaps easier to build the Great Wall of China than to convince a global warming devotee to reconsider their mistaken faith.
A man with a conviction is a hard man to change. Tell him you disagree and he turns away. Show him facts or figures and he questions your sources. Appeal to logic and he fails to see your point. So wrote, American social psychologist Leon Festinger in 1956.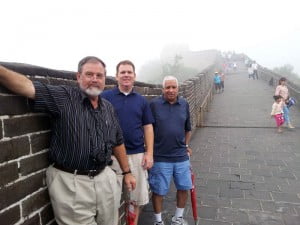 The human brain often struggles to discern fact from fiction, and even the cleverest scientist is susceptible to their own convictions. So if modern climate science is to provide a better understanding of how the dynamic, real-world forces that create weather and climate operate, rather than simply supporting the popular theory of dangerous global warming, then some discipline will be required.
In particular the objective peer review of articles becomes critically important.
Given recent criticisms of Professor Bob Carter following the publication of his new co-authored book 'Taxing Air', it is worth revisiting the prior treatment that he and his colleagues John McLean and Chris de Freitas received in 2009 at the hands of peer review by the mainstream climate science community.
In July 2009 Carter was a junior author on a paper in the peer-reviewed Journal of Geophysical Research (JGR). The paper, by McLean, de Freitas and Carter (hereafter, MDC), compared global atmospheric temperature since 1958 with variations in the El Nino-Southern Oscillation (ENSO) climatic framework [1].
The MDC analysis supported earlier research that demonstrates a close link between these factors, and indicated that a large portion of the variability in global temperature is explained by ENSO variation, thus leaving little room for a substantial human influence on temperature.
In November 2009, a newly appointed, replacement JGR editor informed Carter and co-authors that a group of scientists led by Grant Foster had submitted a critique of the MDC paper for publication in JGR. Carter et al. were invited to write a response, which they did, submitting it to JGR on January 14, 2010.
Extraordinarily, the MDC reply, which entirely rebutted the mistaken criticisms of Foster et al., was never published by JGR!
Following the slightly later release of thousands of documents and emails stolen from the Climatic Research Unit at the University of East Anglia in late 2009 (the Climategate affair), it became possible to understand what had happened behind the scenes that led to this malfeasant result.
The Climategate emails revealed that a referee of the Forster et al. critique considered the purported criticism of Carter et al. to be akin to a "blog diatribe" and that, despite many reservations from other climate scientists involved, the criticism of MDC contained both wrong and irrelevant information.
The misinformed analysis was nevertheless rushed into print – to ensure that those who supported the theory of dangerous AGW had the last word in the ostensibly peer-reviewed literature on the important issue of ENSO variations and global temperatures.
Dissent is healthy, but the JGR critique of MDC was not only heavy on empty rhetoric, but also contained incorrect claims about the content of the paper and focused on peripheral issues rather than on the paper's substantive scientific conclusions [2].
Normally such incorrect claims would have either been rejected for publication, or at the very least subjected to a corrective right of reply by the original MDC authors. Instead, publication of the critique proceeded and a right of reply was denied to MDC.
In other words, a leading professional journal, JGR, failed to provide those whose research they had originally seen fit to publish with a right of reply after other scientists with an AGW conviction agenda specifically set out to discredit the research.
In a detailed, factual exposition of the saga [3], Carter et al. explain that:
"The practice of editorial rejection of the authors' response to criticism is unprecedented in our experience. It is surprising because it amounts to the editorial usurping of the right of authors to defend their paper and deprives readers from hearing all sides of a scientific discussion before they make up their own minds on an issue. It is declaring that the journal editor – or the reviewers to whom he defers – will decide if authors can defend papers that have already been positively reviewed and been published by that same journal. Such an attitude is the antithesis of productive scientific discussion."
In a delicious irony, de Freitas and McLean have recently published an update of the 2009 MDC paper, in which they further substantiate and develop the understanding that ENSO exerts a strong influence over global temperature [4]. Thus despite the best efforts of Foster et al., the latest research literature now reflects what has all along been the reality – which is that once natural climatic variation is properly taken into account, it is difficult to discern any measurable human influence on global temperature whatsoever; also, that the ENSO oscillation is one of the most important natural influences that needs to be taken into account (and which is ignored by the climate GCMs deployed by IPCC-linked computer modelling groups).
In his book 'The Climate Files', Fred Pearce explains how Climategate raises many other deeply disturbing questions similar to those raised by the MDC affair about the way that contemporary, IPCC-related climate science is conducted.
The implications of prejudicial editing and refereeing in climate science are significant, because ultimately our best protection against the hazards of weather and climate will come from a more robust theory of climate than that offered by naïve belief in the power of human-related greenhouse forcing.
After which, turning climate theory into cost-effective policy surely requires that preparation for and adaptation to adverse climatic events be considered the best public option, accompanied by ensuring that the best possible warning/forecasting systems are in place.
To quote Richard P. Feynman: For a successful technology, reality must take precedence over public relations, for Nature cannot be fooled.
Photograph/Image
NIPCC editors Bob Carter, Craig Idso and Madhav Khandekar visiting the Great Wall of China on the occasion of the launch of a combined Chinese translation of the 2009 and 2011 NIPCC reports in Beijing.
Key References
1. J. D. McLean, C. R. de Freitas and R. M. Carter, "Influence of the Southern Oscillation on Tropospheric Tem-perature," Journal of Geophysical Research, Vol. 114, No. D14, 2009. doi:10.1029/2008JD011637. http://onlinelibrary.wiley.com/doi/10.1029/2008JD011637/abstract
2. Foster, G., J. D. Annan, P. D. Jones, M. E. Mann, B. Mullan, J. Renwick, J. Salinger, G. A. Schmidt, K. E. Trenberth 2010. Comment on "Influence of the Southern Oscillation on tropospheric temperature" by J. D. McLean, C. R. de Freitas, and R. M. Carter, Journal of Geophysical Research Volume 115, Issue D9, 16 May 2010. DOI: 10.1029/2009JD012960. http://onlinelibrary.wiley.com/doi/10.1029/2009JD012960/abstract
3. J. D. McLean, C. R. de Freitas and R. M. Carter. Censorship at AGU: scientists denied the right of reply. SPPI Original Paper, March 30, 2010. http://scienceandpublicpolicy.org/originals/censorship_at_agu.html
4. C.R. de Freitas and J.D. McLean, 2013. Update of the Chronology of Natural Signals in the Near-Surface Mean Global Temperature Record and the Southern Oscillation Index . International Journal of Geosciences, 2013, 4, 234-239. doi:10.4236/ijg.2013.41A020. http://www.scirp.org/journal/ijg