KEVIN Rudd took over as Australian Prime Minister replacing Julia Gillard on June 26, 2013. Since then, with the announcement by Mr Rudd that he now intends to bring forward the transition from a strict carbon tax to an emissions trading scheme, the politics of climate change and carbon taxing have changed dramatically. If the Opposition, led by Tony Abbott, is to stay competitive, and become relevant, it urgently needs a proper alternative plan to address climate change.
The answer is to introduce a new climate policy based upon preparation for, and adaptation to, all weather and climate related events whether they be of natural or of potentially human causation. Such a policy could be practical, cost-effective and efficacious, which is why it has been recommended by so many independent commentators and expert scientists over the last five years. This adaptive policy is well summarized in the last chapter of Bob Carter's new book, 'Taxing Air: Facts and Fallacies About Climate Change' [1].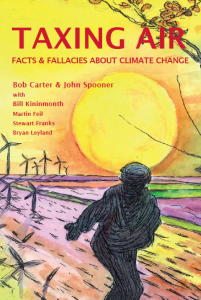 Yes, Professor Carter, like Mr Rudd does believe in climate change and the need for a national climate policy.
The advantage of Carter's plan, however, over anything that Mr Rudd is currently proposing is that it is open to the possibility of global cooling, as well as global warming.
Professor Carter suggests that the highly contentious 'global warming' problem be recast through the development of science-based adaptive response strategies that can deal with whatever nature in the end serves up. In his book the major climate-related hazards in Australia are listed as cyclones, storms, floods, landslides, droughts and bushfires, as well as the longer term hazards of abrupt or extended warmings or coolings in temperature and their attendant consequences (Page 236).
Tony Abbott's plan, after he won the Australian federal election on 14th September, was to scrap the carbon tax. But the election is now unlikely to be held on 14th September and Kevin Rudd is about to "scrap the carbon tax" [2]?
The best thing Abbot could do in response would be to scrap his proposed Direction Action Plan and come up with a proper plan to address the very real climate-related risks as detailed in Professor Carter's new book.
After all, the Direction Action Plan was never about addressing climate change it was always just a plan to waste an awful lot of money on feel-good things like planting trees, that would never really address the issue of global warming, that no one was convinced Mr Abbot really believed in. As long as the Australian public had a carbon tax to hate, Mr Abbott could perhaps hide behind this fig leaf of a policy. Now, given Mr Rudd's plans to scrap the tax, the fig leaf is likely to become a liability.
As Professor Carter explains on the last page of his book:
"Pursuing expensive and futile schemes to combat the speculative, and quite possibly illusory, risks of human-induced global warming is both pointless and wealth-sapping. Instead any sensible national climate policy must primarily address the well known risks of natural climate events and change."
***
1. For more information visit http://www.taxingair.com
2. Rudd tipped to scrap carbon tax. Bigpond News. July 14, 2013 http://bigpondnews.com/articles/TopStories/2013/07/14/Rudd_tipped__to_scrap_carbon_tax_887772.html
Bob Carter is the author of more than 100 peer-reviewed research papers in professional scientific journals. The great majority of these concern interpretations of ancient environments, including paleo-climatic studies. Link to full of list of publications here… http://members.iinet.net.au/~glrmc/new_page_4.htm