IT'S focused on Australia, popular misconceptions about the environment, history, climate and there is more, it's chock full of cartoons! I'm referring to a new book by scientist Bob Carter [1] and cartoonist John Spooner entitled Taxing Air: Facts & Fallacies about Climate Change.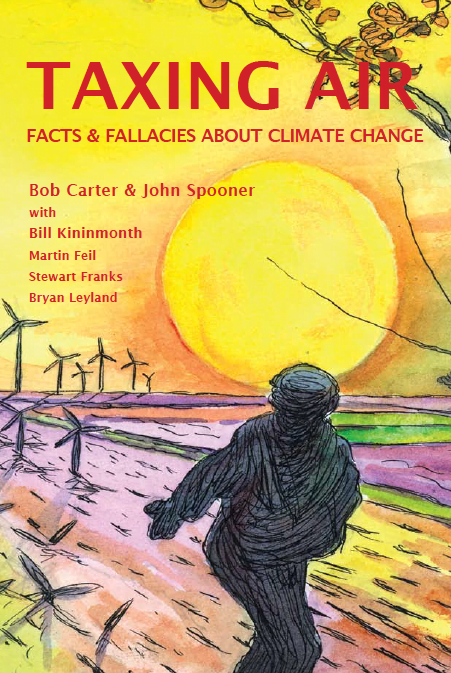 Some of the big issues address:
Just 8,000 years ago, there was virtually no summer sea-ice in the Arctic Ocean.
Sea-level rise is natural, and declining in rate.
Australian rainfall has not decreased over the last 100 years.
A previous Australian drought lasted 69 years.
By catchment management, the Murray-Darling Basin now contains almost 3 times as much water as it held naturally.
Global air temperature has not increased for the last 16 years, despite an 8% increase in CO2.
Global ocean temperature is also steady or cooling slightly.
Australian territory absorbs up to 20 times the amount of CO2 that we emit.
If you order your copy this week it will be a signed copy.
For more information visit http://www.taxingair.com
***
[1] Bob Carter is the author of more than 100 peer-reviewed research papers in professional scientific journals. The great majority of these concern interpretations of ancient environments, including paleo-climatic studies. Link to full of list of publications here… http://members.iinet.net.au/~glrmc/new_page_4.htm