LATE last year, Jennifer Marohasy posted an article offering her opinion on why asbestos use has a place in modern society [1]. We recently reached out to her about offering another perspective, and she graciously opened the floor up for us at The Mesothelioma Center to explain our dissenting opinion.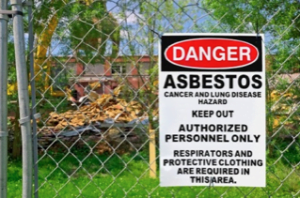 As advocates for those who suffer from asbestos-related diseases, The Mesothelioma Center certainly has a different position than Dr. Marohasy. The more that we connect with patients suffering from debilitating asbestos-related diseases, the more we believe that there is no place for asbestos use in an enlightened era of educated decisions and non-carcinogenic alternatives.
The International Labor Organization estimates that 100,000 workers worldwide die each year from asbestos-related diseases. Yet the asbestos industry continues to have help in its fight for survival, thanks to the backing of lobbyists and industry-funded researchers who insist that the fibers can be safely mined and processed.
Dr. Marohasy believes it's out of line to shut down an industry without considering the benefits of the products they produce. Fair enough. Let's look at the benefits [2]:
• Asbestos is cheap and helps manufacturers cut costs on their materials.
• Asbestos is highly fire-retardant, and it adds a strong fireproof element to industrial products and construction materials.
Those are the primary benefits of asbestos. A bit underwhelming, don't you think? Especially since alternatives with equal fireproofing power exist.
You might be able to make a case that asbestos has protected many people from fatal burns and other fire-related injuries (Ironically, the United States' fire death rate per million actually decreased 20 percent from 2000 to 2009 – long after asbestos was eliminated or reduced in many insulating products.). However, the way that some proponents portray it, you'd think that asbestos was the only fireproofing material known to man.
In reality, ceramic foam, non-PBDE (polybrominated dephenyl ether) polyurethane foam and thermoset plastic flour are all alternatives that pose far fewer health risks [3] to people who work with them. Companies would have to shell out more money to procure these products . . . but from an ethical and moral standpoint, shouldn't that be an easy decision?
Are we really saying it's okay to place economic value over the value of human life? This kind of corporate mentality sacrifices human rights for the sake of monetary profit; and as a society we have to collectively stop such crimes against humanity.
Dr. Marohasy closes her defense of asbestos by posing the following question to her readers:
"Can't the product be used in ways that give advantage, while safeguarding the health of workers?"
There is no choosing a safe route with asbestos. You can't mine, process and then create materials with it without creating a health hazard. When you insist on playing with carcinogen, you insist on putting people at risk for cancers. Once you work with mesothelioma patients whose tumors are literally suffocating them, you find it hard to justify putting people at risk for this debilitating disease – even if you think there is a way to safeguard them against that risk.
Second, does anyone want to trust a company – be it a small mom-and-pop or a large conglomerate – to safeguard worker health?
When the asbestos industry was booming in the United States, CEOs created elaborate cover-up schemes that concealed the dangers of asbestos from their employees. They worried that their workers would leave if they knew they were risking painful, prolonged deaths or endangering the health of their families. Rather than provide them with protective gear, the companies lied to their employees. If asbestos could indeed be safely used for its advantages, why wouldn't the companies have done so by now?
The more that we connect with the people whose lives been devastated by these entirely preventable diseases, the more strongly we feel that asbestos should be avoided at all costs. The concern for the economic effects of terminating the asbestos industry would be better directed at the families already torn apart by its continued operation. When human safety is on the line, there's simply no room for misguided attempts to "control" a carcinogen – especially one that has already needlessly claimed hundreds of thousands of lives.
Author bio: Faith Franz researches and writes about health-related issues for The Mesothelioma Center [4]. One of her focuses is living with cancer.
**************
References:
1. Why Use Asbestos? December 5, 2011. http://jennifermarohasy.com/2011/12/why-use-asbestos/
2. Asbestos Containing Consumer Products. http://www.asbestos.com/products/consumer.php
3. Mesothelioma Risk Factors. http://www.asbestos.com/mesothelioma/risk-factors.php
4. Mesothelioma Center. http://www.asbestos.com/mesothelioma/
Sources:
International Labour Organization. Asbestos: the iron grip of latency. (10 January 2006). Retrieved from http://www.ilo.org/global/about-the-ilo/press-and-media-centre/news/WCMS_076282/lang–en/index.htm
U.S. Fire Administration. Trends in Overall Fire Death Rates 2000-2009. (17 July 2012). Retrieved from http://www.usfa.fema.gov/statistics/estimates/trend_overall.shtm