In Australia we now have a carbon tax, to reduce emissions of carbon dioxide. But I bet if there really was an across the board reduction in carbon emissions by industry the government would be complaining. Back in late 2008, when the price of oil plummeted, there was no celebrating the reduced energy usage anticipated by the reduction in demand. Rather everyone was complaining about the global financial crisis.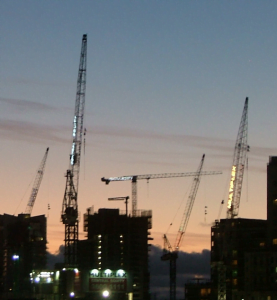 Indeed if our industries really curbed emissions it would be a sign production was slowing and the economy was going into recession.
What does the Australian Treasury really want: energy consumption or a reduction in emissions of carbon dioxide? Given current technologies, economic growth necessarily means energy consumption and carbon dioxide emissions. The two are inextricably linked.
But go to the Australian Government's Treasury website and look under carbon price and there is a message about how modelling shows that:
"The Australian economy and the global economy both continue to grow strongly at the same time as we cut pollution to reduce the risks of dangerous climate change".
Look at Australia's All Ordinaries index and it shows that the Australian share market has gone nowhere since August last year while some economists suggest that the recent sharp drop in the global base price of metals is a sign of a likely drop in global industrial production and the risk of recession – not economic growth.
It's a strange business this preoccupation with climate change and desire to save the planet by way of a carbon tax. Carbon is the chemical element with symbol C and atomic number 6. Carbon is known to form almost ten million different compounds including the hardest naturally occurring substance the diamond. But more than this, carbon compounds form the basis of all known life on Earth. Carbon should not be equated with pollution – and neither should carbon dioxide that is the stuff trees breathe in.
The carbon tax is in fact a tax on energy imposed on several hundred of Australia's most productive enterprises. Most of these enterprises will simply pass the additional cost onto the consumer. Meanwhile the Australian Treasury has already compensated many consumers by way of a one-off payment in anticipation of the carbon tax increasing their cost of living.
If the Treasurer, Wayne Swan, was really serious about us all reducing energy consumption he would surely provide no compensation for the increased costs associated with the tax. He would simply insist ordinary Australians pay more so they consume less.
Indeed if Mr Swan was serious about reducing emissions he would be wanting a global recession, or at least one in Australia so we could do our bit – show moral authority, lead the way in reducing emission etcetera.