ACCORDING to the Intergovernmental Panel on Climate Change (IPCC) the oceans are warming [1]. But the IPCC does not explain the underlying physical mechanism, the IPCC does not explain from first principles how the oceans warm.
In 2000, in a short article for Science and Technology Magazine, a respected oceanographer, the late Robert E. Stevenson wrote that the popular scientific consensus that greenhouses gases were causing the oceans to warm was incorrect because infrared radiation from greenhouse gases heats only the top few millimetres of the ocean and as a consequence is soon dissipated by evaporation [2]. According to Dr Stevenson, it is only the sun that can warm the oceans.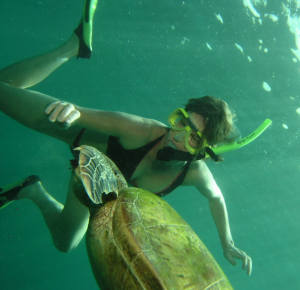 Indeed incoming solar radiation in the visible spectrum* is mostly short-wave radiation and it is generally accepted, including by those who swim in the ocean, that this radiation can penetrate a significant distance into the water column and is stored as heat.
Physicists that specialize in quantifying heat transfer will generally concur with Dr Stevenson. They explain that evaporation, conduction and long-wave infrared radiation (for example from greenhouse gases) are all surface heat transfer effects. That is, they only heat or cool at the very surface of the water.
Not everyone understands concepts like conduction and infrared radiation. But most people understand evaporation. When water evaporates, for example from the human skin, it cools. Evaporation cannot occur underwater.
And so, long-wave radiation cannot penetrate the water surface.
Like evaporation, long-wave radiation is only a surface heat transfer effect.  It can not warm the ocean in the same way that incoming short-wave solar radiation in the visible spectrum can.
Some scientists will argue that there is a second reason why radiation from greenhouse gases cannot warm the ocean. They argue that the infrared radiation from greenhouse gases referred to by Dr Stevenson is, in fact, back radiation (energy from the sun radiated off the surface, absorbed by greenhouse gases above it, and then re-emitted back down) and to claim this back radiation can warm the ocean is to violate the 1st 2nd law of thermodynamics. They explain that while an increase in greenhouses gases can not result in warming from back radiation, an increase in greenhouse gases can result in warming by reducing the rate of radiative heat loss to space.
But, even accepting that more greenhouses gases in the atmosphere, for example from more carbon dioxide emissions, can result in an elevation of the average Earth's surface temperature because of the re-radiation of more infrared long-wave thermal radiation, how does this get the ocean to warm?
In short, how is anthropogenic global warming going to get the oceans to warm given that long-wave radiation, like evaporation, only has a surface heat transfer effect?
******
* Corrects based on comment received by email from Bob F-J.  Bob also commented that: UV at shorter wavelengths is a substantial part of solar and is virtually "reflected", and solar IR finds water to be virtually opaque.    Bob also commented that: the surface of the ocean will radiate EMR [energy across a range of spectrums] as a function of its temperature independently of anything else going on.  And that my article made no mention of this while emphasising evaporation.   Bob also mentioned that evaporation varies widely with relative humidity, temperature difference, wind speed and more.
I really did not mean to "emphasis evaporation", but to use it to help readers understand the concept of a surface heat transfer effect.
In this post I have rephrased and added to an earlier post: How the Oceans Get Warm: Robert E. Stevenson. When I posted 'part 1' I stated: resolving this issues is fundamental to understanding not only global warming but also the related issue of ocean acidification.
The photograph shows me and a green sea turtle swimming in the warm waters of the Coral Sea.
References
1. Ocean Heat Content. IPCC Fourth Assessment Report: Climate Change 2007 http://www.ipcc.ch/publications_and_data/ar4/wg1/en/ch5s5-2-2.html
2. Yes, the Ocean Has Warmed: No, It's Not 'Global Warming' by Robert E. Stevenson
In 21st Century Science and Technology Magazine, Summer 2000  http://www.21stcenturysciencetech.com/articles/ocean.html