WESTERN science, along with western civilization appears to be in terminal decline.[1] China has shot into second place in terms of number of scientific articles that are published in international journals and Chinese scientists are set to take the top spot in the next few years.[2] Drs Jennifer Marohasy and John Abbot have joined the Chinese climate science community with a recent article in the journal Advances in Atmospheric Sciences.[3]
My name is Mr Koala and I've been studying all the papers listed in volume 29, number 4 of Advances in Atmospheric Sciences. This is a journal sponsored by the Chinese Academy of Sciences.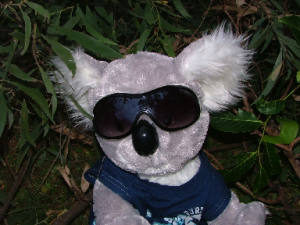 I asked Dr Marohasy why she didn't have this important paper published by the American Meteorological Society's Journal of Climate. She replied that it was sent to the Journal of Climate, amongst others, but they rejected the article, not because they had any issues with the science, but because they questioned the paper's relevance.
Relevance!
Even a Koala, not at the top of his tree, can see the relevance.
This is a paper that shows how to forecast rainfall better than the General Circulation Models so popular with climate change scientists in the west.
That's how relevant it is.

Physicist and former Dean of Science at James Cook University, John Nicol, has written:
'I believe you have produced a masterpiece in a paper, which is not only totally detailed in all that you have done, but is also infinitely readable.

The success in achieving a three-month forecast which is superior to that provided by the expensive Bureau of Meteorology modeling enterprise is a marvelous achievement. The potential economic value of such long range forecasting for agriculture cannot be overstated.

The testing you have carried out through the delaying of the phase of influences is also an important feature. Using the multiplicity of these influences beside a neural "learning" process obviously provides for the amplitude of each to be properly calibrated. I believe this has always been one of the most difficult features of any attempts at studying cyclical phenomena, in particular in relation to rainfall simply because for rainfall, one is only able to measure the positive part of the influence – not the negative – since you measure a quantity of rain, but when it is not raining, there is no information about the likely strength of parameters which are constraining the system "not to rain"… [end of quote]
Back in the swinging 1960s when western civilization was at the top of its tree and I was playing vinyl Beatles records, we understood when something was relevant – or not. [4]
But climate science in the land of the Eucalyptus has since lost its way. Climate science in Australia is now up a blind gully looking for carbon dioxide. Consensus scientists in the west are so obsessed with carbon that they want it taxed: carbon will be the first element in the periodic table ever to be taxed.
But not in China where scientists are too busy publishing the findings of real scientific research.
According to Andrew Plume writing in the magazine Research Trends [5]:
'China lost its scientific and technological edge from the 15th century onwards by becoming culturally insular, shunning exploration of the wider world and remaining suspicious of importing outside ideas and influences. Just as business depends on trading goods and services, so science depends on exchanging ideas and data, and self-imposed isolation is disastrous in either case. Now, in the 21st century, as China opens itself up to global markets — both of commerce and ideas — it again looks set to lead the world.
Meanwhile the west, shuns scientists who don't subscribe to taxing carbon and refuses to acknowledge the value of a better rainfall forecast because it is not based on a General Circulation Model corrupted by carbon dioxide.
1. According to Pria Viswalingam the author of 'Decadence: The Decline of the Western World', the timeline is: "The west as we know it today begins with the Magna Carta in 1215… Then came the Renaissance, the Reformation, the founding of America and the Enlightenment, before the west peaked with the social revolutions of the 1960s. In 1969, the Russians and the Americans took us beyond our earthly bounds, the My Lai Massacre shattered the image of us as the good guys and then there was all the sheer exuberance and peace, love and rock and roll of Woodstock before the Rolling Stones 'end of the '60s' concert at Altamont. Decadence depicts the west's decline ever since." http://www.smh.com.au/entertainment/movies/society-is-past-its-use-by-date-20111202-1oajg.html
2. Chinese scientists set to lead the world. March 30, 2011. http://news.xinhuanet.com/english2010/sci/2011-03/30/c_13804589.htm
3. The Application of Artificial Intelligence to Rainfall Forecasting in Queensland, Australia. Advances in Atmospheric Science. Volume 29, Number 4, pages 717-730. http://www.springerlink.com/content/l368165637857347/
4. In 1969 western nations stopped to watch a man set foot on the moon.  Forty years later almost the entire Australian nation stopped again, but this time to watch a competition between two women cooking a chicken.  Julie savours MasterChef victory. ABC News, July 19, 2009. http://www.abc.net.au/news/2009-07-19/julie-savours-masterchef-victory/1359412?section=entertainment
5. Tipping the balance: The rise of China as a science superpower
by Andrew Plume, March 2011
http://www.researchtrends.com/issue22-march-2011/tipping-the-balance-the-rise-of-china-as-a-science-superpower/