SCIENCE was once about matching theory with reality. According to American physicist and historian Thomas Kuhn this perhaps more than anything else contributed to the phenomenal progress made by scientists over the last 400 years.
But many people appear to have a problem with understanding theory and considering it in the context of reality. Consider Anna Rose and her performance on the documentary 'I Can Change Your Mind About Climate Change' featured on the Australian Broadcasting Corporation (ABC) this evening. Ms Rose was flown across Australia and around the world to talk with climate change sceptics but refused to engage constructively on issues of scientific evidence. Yet evidence is central to science and in particular determining whether theory and reality match.
Instead of listening to what Richard Linzen had to say about feedback mechanism and global climate she said he was not credible because of his views on passive smoking. When it came to Marc Morano, another person introduced to her as sceptical of anthropogenic global warming, Anna Rose point blank refused to talk with him because she said he was a liar. Clearly Mr Morano is influential, here was an opportunity for Anna Rose to apparently show him up as a liar, and she would not engage.
Nick Minchin, who travelled with Ms Rose and who had been specifically tasked with attempting to change Anna Rose's mind, also tried with the evidence, but he didn't see able to engage her either.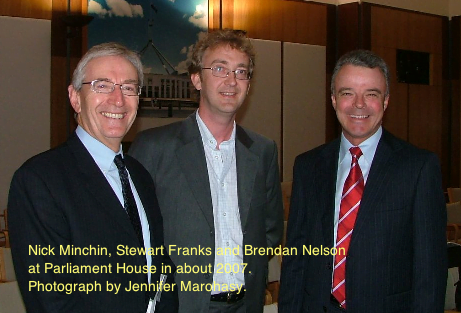 Jo Nova, David Evans, Richard Lindzen and Marc Morano all provided data that would suggest the theory as promoted by Anna Rose does not accord with reality, but she would not engage.
I noted she suggested that there was something wrong with the sea temperature chart provided by Mr Evans, so why didn't she provide an explanation and show us what the situation really is with respect to sea temperature?
Instead Ms Rose suggested that all credible scientists say we have a problem, that increasing atmospheric levels of carbon dioxide are going to result in the destruction of our economy and the Great Barrier Reef, and we must believe them. Does she realize she is just appealing to authority and not engaging with the evidence?
It would have been easy enough for the documentary makers to nail a couple of issue of evidence. For example, what is the real story with global sea temperatures? But instead, by the end of the documentary it appeared they were keen to move from the science to issue of renewable energy and so was Anna Rose.
Tony Jones suggested, when he opened the Q&A session that immediately followed the documentary on our ABC, that he wanted to focus on renewable energy issues and that the science was no longer a central issue, but every time a sceptic began with some scientific facts, Mr Jones called on "his scientist" Matthew England who was 'wired-up' in the audience to put a particular perspective with respect to the science; the ABC perspective.
And according to Jo Nova:
"We did 4 hours of footage at our house, and they showed not one single point I made, not one answer to Anna Rose's questions. I repeated my favourite lines about 28 million weather balloons, 3000 ocean buoys off by heart at least 4 times [which show no global warming and therefore a mismatch between reality and theory]. Obviously everything I said was too 'dangerous'. But we have the full tape of the whole event, so sooner or later the world will see the parts that the ABC deemed to be not 'interesting' to the Australian public. So all in all, pretty much as we expected. They trimmed it down to the point where it's tame, they gave the alarmists the last word (they always do)…"
Our ABC has no concept of evidence, or the importance of attempting to match theory with reality, as part of assessing the reliability of a scientific theory.
And it is disappointing that our ABC couldn't bring itself to get even one sceptical scientist into the Q&A audience to provide some support for Nick Minchin – though he did well enough on his own.