REMEMBER Henrick Svensmark and Eigil Friis-Christensen and cosmic ray theory [1]: the idea from these Danish physicists and climate scientists that global climate may be mediated by changes in the flux of galactic cosmic rays because cosmic ray are conducive to cloud formation?
Henrik Svensmark has just published a new paper: now available for download in full from the front page of the Royal Astronomical Society's website [2] and the subject of a detailed post by Anthony Watt [3].
The new paper focuses on local supernova rates (rates of explosions of large stars) and suggests that high rates of explosion could coincide with colder conditions on planet earth. The paper draws a correlation between long-term changes in sea-level and supernova rates and marine biodiversity and productivity over the last 510 million years.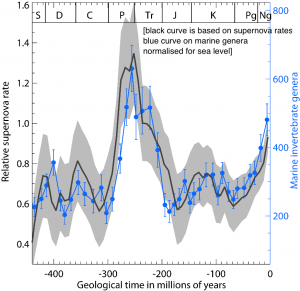 Dr Svensmark goes as far as to hypothesis that the biodiversity and primary productivity of the oceans depends on the supernova rate; somewhat counter intuitively that glacial conditions will result in increased primary productivity.
"A simple working hypothesis, suggested by carbon-isotope data for the past 4 Gyr (Svensmark 2006a), is that primary productivity increases in glacial conditions, perhaps because of better nutrient supplies, caused by a more vigorous mixing in the oceans during cold conditions. This hypothesis would predict the following.

(i) 
A drawdown of CO2 from the environment in glacial conditions. Since organic productivity consumes CO2, there should be an impact on the levels of atmospheric and oceanic CO2. High productivity draws down CO2, until ultimately the productivity rise is halted not only by exhaustion of nutrients, but also by the scarcity of CO2, which should prevent a total loss of environmental CO2. Conversely, low productivity should result in an accumulation of underemployed CO2.

(ii) 
Due to the increased organic productivity, an increase in the heavy stable isotope of carbon, 13C, is expected in the oceans during glacial conditions.
I'm fascinated.  But not convinced.
H/T Neville.
*******************
[1] Cosmic Rays, Clouds and Climate (Part 1) http://jennifermarohasy.com/2008/04/cosmic-rays-clouds-and-climate-part-1/
[2] Henrick Svensmark 2012. Evidence of nearby supernovae affecting life on Earth. Monthly Notices of the Royal Astronomical Society.
Links here:
http://www.ras.org.uk/news-and-press/219-news-2012/2117-did-exploding-stars-help-life-on-earth-to-thrive
http://onlinelibrary.wiley.com/doi/10.1111/j.1365-2966.2012.20953.x/full
[3] Svensmark's Cosmic Jackpot: Evidence of nearby supernovae affecting life on Earth at Watts Up With That? http://wattsupwiththat.com/2012/04/24/svensmarks-cosmic-jackpot-evidence-of-nearby-supernovae-affecting-life-on-earth/#more-61941