FOLLOWING aerial surveys to estimate polar bear numbers, it was recently reported in The Globe and Mail [1] that polar bear population numbers are higher than originally thought:
"The number of bears along the western shore of Hudson Bay, believed to be among the most threatened bear subpopulations, stands at 1,013 and could be even higher, according to the results of an aerial survey released Wednesday by the Government of Nunavut. That's 66 per cent higher than estimates by other researchers who forecasted the numbers would fall to as low as 610 because of warming temperatures that melt ice faster and ruin bears' ability to hunt. The Hudson Bay region, which straddles Nunavut and Manitoba, is critical because it's considered a bellwether for how polar bears are doing elsewhere in the Arctic."
Ever since that April 3, 2006, cover of Time Magazine many people have been very worried about polar bears.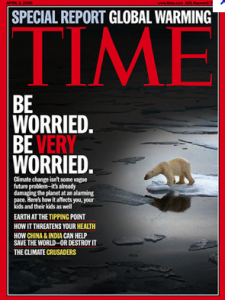 The Globe and Mail report is apparently quoting Drikus Gissing, Nunavut's director of wildlife management. But I can't find this number of 1,013 in the actual report on the survey. [2] And what does it mean if there are 1,013 bears?
According to Anthony Watts [3]:
"What I found most interesting is the clear message that polar bears are thriving in an environment where sea ice (NSIDC includes Hudson Bay as sea ice) seasonally disappears entirely."
But, again, I can't find any evidence in the report that polar bears are thriving?
Across the entire region surveyed, polar bear numbers appear to have increased slightly from the 2,200 in the early 1990s to 2,580 in 2009/10.
It is generally assumed, by those who fear anthropogenic global warming, that polar bear numbers are declining globally. But many of us skeptical of this popular consensus have been quick to quote an assumed increase in polar bear numbers over recent decades from a low of about 5,000 in the 1960s to recent estimates of about 22,000.
But how reliable are these figures?
I've tracked down a copy of the 'Proceedings of the First International Scientific Meeting on Polar Bears' held in Fairbanks Alaska, 6-10 September 1965. It doesn't actually state how many polar bears there were back then. The Canadian Wildlife Service Brief includes comment that:
"Scott and others (1959) concluded that about 2,000 to 2,500 polar bears existed near the Alaskan coast. By extrapolation they arrived at a total polar bear population of 17,000 to 19,000 animals. Uspensky (1961) estimated the world polar bear population at 5,000 to 8,000 animals. Harington (1964) has given an estimate of 6,000 to 7,000 polar bears for the Canadian Arctic and believes the world polar bear population is well over 10,000. Approximately 18 percent of the total Canadian Arctic population is cubs (0-2 years old)."
There is no reference list with this brief.
In summary we may live in The Information Age, but it's sure hard to find meaningful information on population numbers for the iconic polar bear.  I'm not sure we have any real idea how polar bear population numbers are trending along the western shore of Hudson Bay, Nunavut, Canada or globally.
******
Links
1. Healthy polar bear count confounds doomsayers. Paul Waldie. April 4, 2012 http://www.theglobeandmail.com/news/national/healthy-polar-bear-count-confounds-doomsayers/article2392523/
2. Foxe Basin Polar Bear Aerial Survey
http://env.gov.nu.ca/sites/default/files/foxe_basin_polar_bears_2012.pdf
3. Nunavut Government Study: "the [polar] bear population is not in crisis as people believed,"
http://wattsupwiththat.com/2012/04/05/nunavut-government-study-the-polar-bear-population-is-not-in-crisis-as-people-believed/#more-60777