ANTHROPOGENIC Global Warming (AGW) theory is currently the most fashionable climate theory and its proponents have risked much by predicting a continuation in what has been a 150-year general warming trend.
There are already some indications this trend is stalling with no increase in average global atmospheric temperatures for 15 years [1].
For those who subscribe to any one of the many theories that purport to explain natural climate variability the stakes are not so high: whichever way temperatures swing we can claim to be right. Indeed simply claiming that climate change is natural does not constitute a theory amenable to falsification.
There has been some arguing recently over ocean temperatures, in particular heat content, and how it is trending. I am happy to concede the AGW proponents might have one remaining residual warming trend to cling to here.
I've been watching the charts of sea surface temperature that have dipped recently [2]. Nothing for the warmists to promote here.
But sea surface temperature is not the same as ocean heat content.
Across at Jo Nova's blog there is a chart 'Climate Models versus Argo Data, Global Ocean Temperature' that shows no increase in ocean heat content. But the chart only goes back to 2003 [3].
A new paper by Sydney Levitus and co-workers entitled 'World ocean heat content and thermostatic sea level change (0-2000), 1955-2010' is causing some excitement amongst warmists [4]. Key conclusions are:
1. A strong positive linear trend in exists in world ocean heat content since 1955
2. One third of the observed warming occurs in the 700-2000 m layer of the ocean
3. The warming can only be explained by the increase in atmospheric GHGs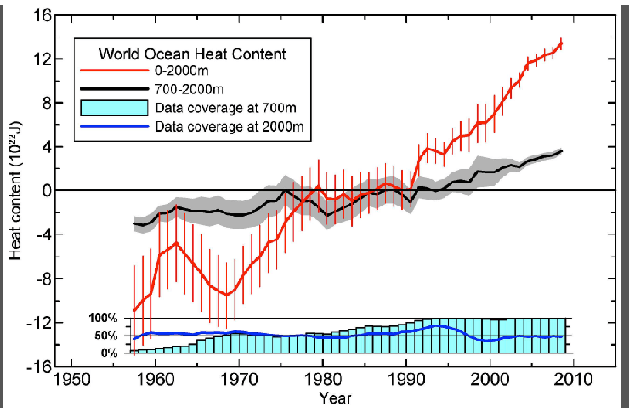 I can see the linear trend and I'm prepared to trust that one third of the warming has occurred in the 700-2000 m layer of the ocean. But the last claim: that the warming can only be explained by the increase in atmospheric greenhouse gases. This is an extremely speculative claim.
Clearly Levitus et al. are convinced that carbon dioxide is a key driver of climate change, but aren't there other more compelling theories.
********
[1] GWPF. April 2, 2012. No global warming for 15 years. http://thegwpf.org/the-observatory/5360-no-global-warming-for-15-years.html
[2] Climate4You Update March 2012 http://www.climate4you.com/Text/Climate4you_March_2012.pdf
[3] David Evans. The skeptic's case. http://joannenova.com.au/2012/01/dr-david-evans-the-skeptics-case/
[4] Levitus S. et al. In press. World ocean heat content and thermosteric sea level change (0-2000), 1955-2010. Geophysical Research Letters, doi:10.1029/2012GL051106 http://www.agu.org/pubs/crossref/pip/2012GL051106.shtml