WALKING on the beach this afternoon I took some photographs of beach mounds. I'm referring to piles of shells and pebbles regularly positioned between, and parallel to, the high and low tide marks.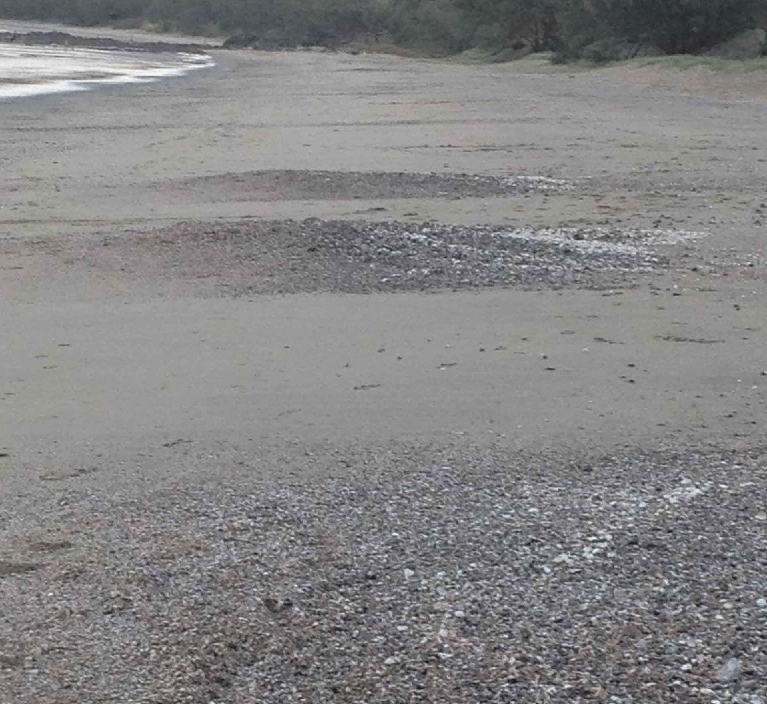 Are these beach mounds a consequence of the ebb tide dragging the sand away from the shells and pebbles or a consequence of swash action dropping shells and pebbles?
During periods of global sea level rise there is typically an overall increase in the amount of sand deposited along a beach.
But a small change in the relative strength of the ebb tide can presumably significantly change the patterns we see on beaches. How different would our beaches look if global sea levels were falling rapidly?
Large mounds dominated by a single shell species near Weipa on Cape York Peninsula (North Queensland) were once considered aboriginal middens but may in fact have been beach mounds. According to Tim Stone from the Australian National University they are not middens by rather a natural consequence of local chenier plain development.[1]
********
[1] Shell mound formation in coastal northern Australia by Tim Stone
Marine Geology, Volume 129: 77-100. 1995
Abstract
Shell mounds are late Holocene deposits typically dominated by a single shell species. In northern Australia these mounds are associated with prograding coastal plains. The largest and most numerous are at Weipa on Cape York Peninsula. Archaeologists claim that these mounds were formed by generations of shellfishing Aborigines. This hypothesis is false because most of the shells from the type-site are of a similar radiocarbon age. Mapping and augering of two contrasting shell mound environments along the Mission River at Weipa demonstrates that mound formation is a natural consequence of local chenier plain development. This is supported by shell ages from across the Weipa landscape. The shell mounds at Prumanung originated as a coarse shell berm. The large mounds on the Uningan plain originated as small shell cheniers. The only reasonable explanation for the transformation of these natural shell deposits into tall, steep-sided mounds is the mound-building behaviour of the Orange-footed Scrubfowl Megapodius reinwardt. Similar mounds composed predominantly of sand and gravel are also present at these localities. The strong likelihood that the shell mounds are natural shell deposits raises serious questions about basic principles of shell midden archaeology. New methods for distinguishing between cultural and natural shell deposits are needed.
http://www.sciencedirect.com/science/article/pii/0025322795001018