I live in Queensland, a very large, resource rich northern state. For too many years we've had Labor governments that have run with very populist themes and policies. And we've had Chief Scientists that have actively ignored evidence to implement Labor politics. [1]
Tonight Queensland Labor was annihilated at the ballot box and will likely be left with just seven seats in the 89-seat parliament. Yes. Annihilated.
Like many Queenslanders I was so excited about voting today. I was so pleased to be a part of a democracy and to know that ordinary people voting together could and would change the government and decisively. And yes we did.
Next year there is a federal election. If only federal Labor government would learn from this Queensland Labor defeat and start reversing its most inane and ignorant policies now… like the carbon tax.
There has been comment that federal Labor is in for as convincing a defeat. But a big difference is that the federal Opposition doesn't have clear alternative policies or a popular leader.
Indeed on the big issues that matter to me, like climate change and the Murray Darling, the Australian Liberal party has policy that is as embarrassing and ignorant as that of the current federal Labor party.
I may have been excited about voting in Queensland today for Campbell Newman. But unless Tony Abbot, as the alternative Prime Minister, starts articulating sensible alternative policies on the issues that really matter federally he won't be getting my vote next year.
And on the issue of the carbon tax…
There may not have been many people at the no carbon tax rally in Canberra last Thursday, but weren't the penguin costumes great. [2]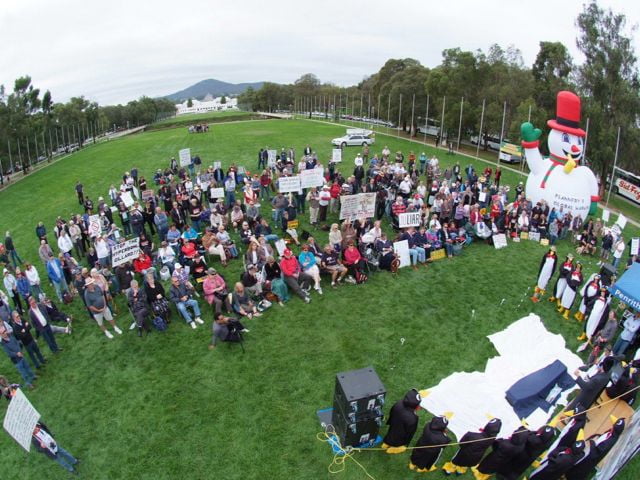 What this and so many related issues need at the federal level is an articulate and committed opposition. But go to the federal Liberal home page and click on the environment policy and this is what you get: "Tony Abbott and the Liberals stand for real action to tackle the complex challenges of climate change, energy security and water scarcity."
There is no water scarcity: the drought broke with flooding rains about 18 months ago. We need a federal government that acknowledges the need to plan for natural climate variability. We don't need subsidies for businesses that want to sequest carbon as proposed by Mr Abbot.
Read more and it gets worst. http://www.liberal.org.au/Issues/Environment.aspx
**********
1. Deceit in the Name of Conservation
http://jennifermarohasy.com/wp-content/uploads/2011/08/Review55-1DeceitinNameConservation.pdf
2. Much thanks to Jim S. for the photograph and for being there.