MICHAEL Brissenden, considered one of Australia's most experienced journalists, failed on so many counts with the Four Corners documentary 'Weather Alert'.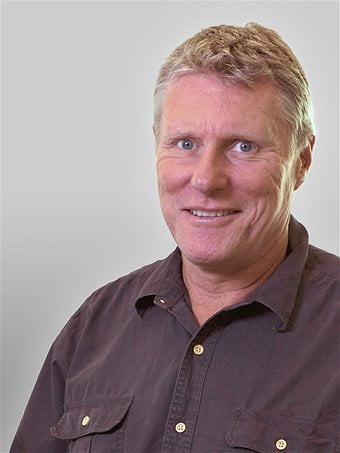 He suggested that wine grower's Brown Brothers are relocating at least part of their business to Tasmania because it is too hot in Victoria, which is untrue. He also failed to explain to the public that climate change can be natural, and for as long as humanity has been growing wine grapes harvest dates have changed. He also failed to provide balance by getting some expert perspective of the extent of recent climate change and its likely effect on wine growing.
When the ABC ran its Four Corners program on climate change some weeks back, it had as its theme: that farmers, small businesses, government planners and major corporations have stopped waiting for politicians to decide whether climate change is real. They're acting now.
One of the more compelling examples provided was that well-known Australian wine producer Brown Brothers was moving part of its operations to Tasmania – to a cooler climate. That is what journalist Brissenden said:
"But that's not all – the company has now also decided to move part of its operation to cooler country."
The inference was clear. It has become so hot on mainland Australia, due to catastrophic climate change, that this business was having to act in quite a dramatic way by relocating.
But company representative, Ross Brown, never actually said this. Correspondence* has since established that it's actually business as usual for Brown Brothers.
"At this stage we don't intend on selling any vineyards in Victoria. We have always had the philosophy that we grow the right varietals in the most suited climate so we have an incredible team who ensure we are planning the right grapes in the right locations."
On camera Mr Brown did go on somewhat about how the grape harvests now are getting shorter and earlier because temperatures are rising.
It is well known that temperature is central to all aspects of viticulture (grape growing and harvest), and that records of changing harvest dates have long provided an indication of local climate change. For example, the number of days from 1 September for the wine harvest in Bordeaux, France, has long been an estimate of climate change in Western Europe. As the start date pushed into October from the late 1400s so Europe entered a period known as the Little Ice Age, which followed the Medieval Warm Period. By 1850 – the beginning of the current warm cycle – the average dates of starting vintage were back in September.
There have always been cycles of warming, followed by cooling. For the ABC to really have a story about grape growing and climate change, Brissenden would need to establish the extent to which the current warming cycle is outside the realm of what might be expected from natural climate change. But he didn't.
Consistent with the ABC's misguided editorial policy, natural climate change was not even mentioned in 'Weather Alert'.
I recently published on temperature change in Southeast Australia – the region where Brown Brothers grow wine. It is chapter 5 in the book Evidence-based climate science by scientific publishers Elsevier. In the chapter, entitled Southeast Australian maximum temperature trends, 1887- 2013: an evidence-based reappraisal, I conclude – from a weighted mean of the five highest quality maximum temperature time series for southeast Australia – that the 0.3 degrees Celsius warming since 1887 is well within what might be expected from natural climate change.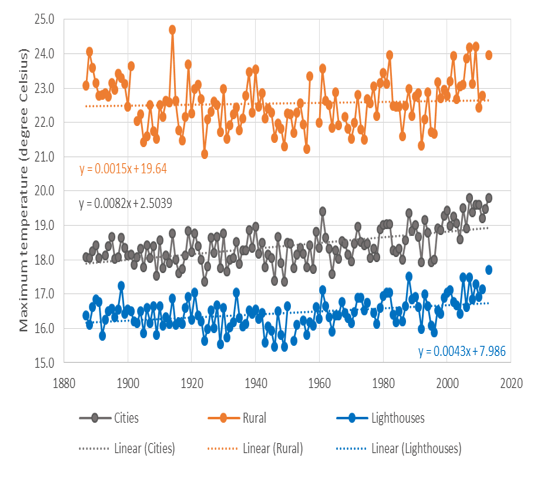 Mr Brissenden might have also mentioned a new book on the fascinating subject of wine and climate – a book written by an agricultural scientist focused on Australian wine. Wine Terroir and Climate Change by John Gladstones (Wakefield Press 2015) concludes that viticulture in Australia is not threatened by global warming, and that much of the computer modelling that underpins the climate change hype is wrong.
If Mr Brissenden was really interested in temperature change and wine growing, and if Four Corners really was about investigative journalism, it would have interviewed Dr Gladstone. But they didn't.
The documentary was more a propaganda piece – and altogether consistent with ABC editorial policy on the topic of climate change.
—-
If you want more of these stories consider subscribing, and donating just A$25: here: http://jennifermarohasy.com/subscribe/
This article was offered to various mainstream Australian media outlets, they all passed on it. But The Spectator Australia has been brave enough to republish, 'tis here: https://www.spectator.com.au/2018/04/no-four-corners-brown-brothers-is-not-moving-to-tasmania/ .
* The correspondence with Brown Brothers was initiated by Bob Fernley-Jones, a Melbourne-based retired mechanical engineer. This blog post details just one of many errors of fact in the Weather Alert documentary identified and documented by Mr Fernley-Jones, which he has included in a series of formal submissions addressed to the ABC's Audience and Consumer Affairs. Mr Fernley-Jones was recently advised that the ABC have exercised their discretion not to investigate any of his submissions. Alessa Savage – My friends bad stepson Sam Bourne must be punished Hot alternative babe Yemaya Gonzalez gets her latin pussy banged Black stallion Isiah Maxwell fucks hot blonde cougar Katie Morgan Fat mans hot wife Alexxa Vega fulfills his debts Mandingos huge black cock inside hot blonde Katie Morgan hanime Jessa Rhodes – Unforeseen difficulties in Modest student fucks his hot stepmother in the shower Double Penetration Porn with my friends wife Christiana Cinn My black girlfriend loves cold ice cream and my warm sperm in her pussy Young exotic girl Nia Nacci wants her best friends father Mick Blue
** In a previous blog post I have detailed the extent to which recent warming trends are likely to be exaggerated by the change from mercury thermometers to electronic probes – this is also something that could and should have been investigate by Mr Brissenden.