WE all have heroes. British biologist Thomas Henry Huxley (1825-1895) is one of mine. The contemporary of Charles Darwin wrote: "Sit down before facts as a little child, be prepared to give up every conceived notion, follow humbly wherever and whatever abysses nature leads, or you will learn nothing."
I have done this for many temperature series: especially maximum temperature series and for many different localities around Australia, even the Bathurst jail because it has an exceptionally long record beginning in 1857. I have also trawled through some archives boxes, and wished I had time to examine more.
I have slowly developed a picture in my mind of what an amalgamation of all the records might look like. I like to develop my ideas slowly and from the bottom-up. I like detail and am often convinced, until I double check again, that I might have got something wrong.
Then along comes well-known American cyclist, blogger, geologist and electrical engineer, oh and also sceptic, Steve Goddard aka Tony Heller. He announced on Twitter a couple of days ago: I am bored with US temperatures, and have turned my attention to climate fraud in Oz.
He starts with a few odd charts at his Twitter feed. I provided some feed back and then he posts 'Australian Afternoons Used to Be Much Hotter'. The title and the chart excited me like only an entomologist can get excited when someone has suddenly completed the collection for them.
The chart is as I imaged the maximum temperature trends for, at least eastern Australia, would look like after all my station data was amalgamated. Steve's methodology is very straightforward: There are 1,655 Australian stations in the GHCN (Global Historical Climatology Network) database that include temperature data. The database is located here: ftp://ftp.ncdc.noaa.gov/pub/data/ghcn/daily/all/. The station list is at bottom. The database includes maximum temperatures. He averages the daily data for each month at each station over the lifespan of the station to generate a monthly mean, and then calculates anomalies from the monthly mean. The numbers in his charts are the average anomaly across all stations for all records during a year.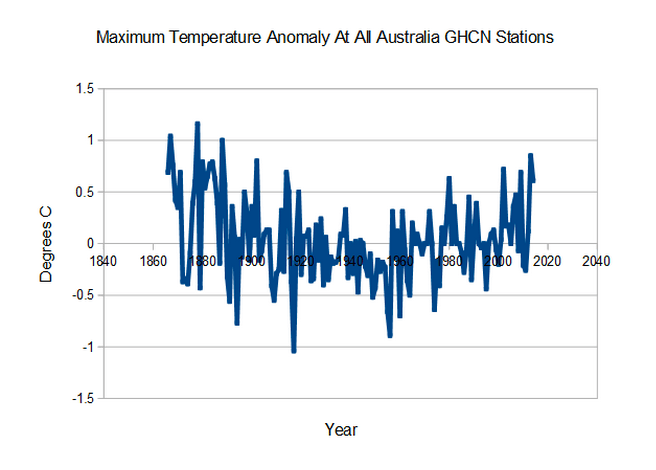 What Steve's chart shows is that it was much hotter in the late 1800s, than at any time since and by a significant margin. He has suggested that 1878 is the hottest year on record. Coincidentally my scrutiny of data from the Bathurst jail weather station had already turned-up the hottest day in that record as being January 12, 1878.
There is a cooling trend to about 1960, and then temperatures start to warm again. But they never reach the highs of the late 1800s and early 20th Century.
Ten years ago, when I started this blog, my daughter wanted to be the first to leave a comment and she wrote: "Do not go where the path may lead, go instead where there is no path, and leave a trail." Ralph Waldo Emerson.
Steve Goddard has just done this with the Australian temperature record. He has gone where no-one has dared go before. Thank you, Steve.