IN September, Patrick J. Michaels likened the Intergovernmental Panel on Climate Change to a treed cat. He wrote, "Instead of closing its eyes and scurrying to the ground, it climbs onto even higher and thinner branches, while yowling ever louder."
Dr Michaels then went on to ask, how does the IPCC back down from a quarter-century of predicting a quarter of a degree (Celsius) of warming every decade, when there's been none for 17 years now?
Chris Turney, professor of climate change at the University of New South Wales, could be described as a cat stuck on a high branch tweeting, but he's actually at the Antarctic and should be considering abandoning ship, except that there is no clear water into which to launch a life raft.
According to the website Boatsafe.com it can be a difficult decision knowing just when to make the call and it is quite common for captains to wait too long to successfully get clear of a floundering foundering boat.
Four days ago the Professor Captain tweeted: "Great news. Icebreaker Snow Dragon on horizon with penguins! Everyone very happy!"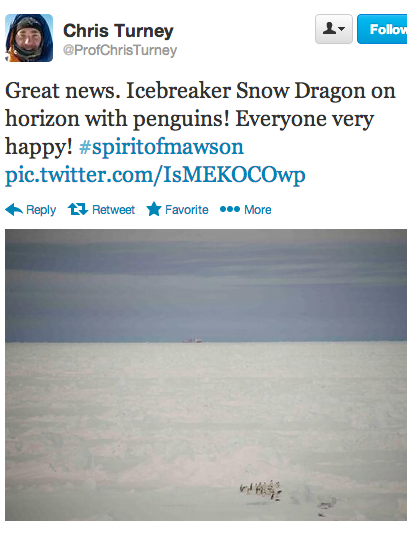 Happy because the Chinese ice-breaking vessel Snow Dragon was expected to clear a path for the stricken ship by Friday night, avoiding the need to abandon ship.
That was after this 233-foot-long Russian-flagged ship sent out a distress signal on Christmas Eve, which was picked up by the Falmouth Maritime Rescue Coordination Center, in the U.K. As the floundering ship is in the Australian search-and-rescue region, the message was passed on to AMSA, and three ice-breaking ships were sent to the rescue.
So far there has been no mention of the climate by the professor of climate change.
But some positive reporting of the weather.
When it looked like the Snow Dragon would be unsuccessful in its bid to cut through 20 kilometres of sea ice frozen to an average depth of perhaps 10 metres, Professor Captain Turney explained that the weather had improved and the ship was no longer in a blizzard.
So, presumably no need to abandon ship.
Next day the Professor Captain tweeted that the ice was cracking. Still no mention of climate. But this time he did report that the weather had deteriorated with snowfalls and stronger winds.
Still no suggestion they abandon ship. In fact Turney tweeted confidently that the second ice-breaker, an Australian ship the Aurora, would be able to successfully rescue them. This despite reports that there was a growing distance between their floundering stricken ship and open water.
Oh. And wind conditions were putting a lot of strain on one side. Turney added that, "The build-up of ice on one side has given it quite a tilt."
Not the climate, but the ship.
In fact must be five days stranded now, no clear water, and no mention of climate change.
I am surprised because there is surely potential for some simple climate change type calculations that could be done by the many scientists onboard.
For example, Professor Captain Turney has explained that sea ice can buildup fast because of high winds. Note. High winds, no mention of climate change.
But let me continue.
When the Captain Professor first realized there was no open channel through the ice they were only about two nautical miles from open water. Next thing, more than 20 miles of ice had built up. Now it's apparently closer to 50 kilometers.
As someone genuinely interested in climate change I ask, "Given the tilting ship, is about 2,800 kilometres south of Hobart, if this catastrophic cooling trend continues, how many days before it is possible to skate across Bass Strait, from Hobart to Melbourne?"
But I digress. Back to the key issue: When is the right time to abandon ship?
As I write the distance between open water with the ice breakers and the tilting ship is somewhere in the vicinity of 50 kilometres. I don't know how many penguins.
Of possible significance they are running out of coffee.
***
Sources of information
http://www.cato.org/publications/commentary/ipcc-political-suicide-pill
http://worldnews.nbcnews.com/_news/2013/12/27/22059393-great-news-rescue-vessel-within-sight-of-explorer-ship-stuck-in-antarctic-ice
http://www.news.com.au/travel/travel-updates/rescue-vessel-near-university-nsw-professor-chris-turneys-icetrapped-cruise-ship/story-fnizu68q-1226790782675
http://worldnews.nbcnews.com/_news/2013/12/27/22068563-icebergs-blizzards-and-a-creaking-ship-antarctic-explorers-tense-wait-for-rescue?lite
http://www.iol.co.za/scitech/science/environment/vessel-still-stuck-in-antarctic-ice-1.1627313#.UsFrbf2Tqro