ANTHROPOGENIC Global Warming (AGW) theory claims the earth is warming because rising CO2 is like a blanket, reducing Earth's energy loss to space. However, data from the US National Oceanic and Atmospheric Administration (NOAA) shows that at least for the last 30 years, Earth's energy loss to space has been rising. The last 30 years of NOAA data is not compatible with the theory of AGW. It would appear that either 30 years of NOAA data is wrong or the theory of AGW is flawed. This is Michael Hammer's conclusion following analysis of the official outgoing long wave radiation (OLR) data.
Read the complete article here: 'The NOAA Outgoing Long Wave Radiation Data Appears to be Incompatible with The Theory of Anthropogenic Global Warming' by Michael Hammer.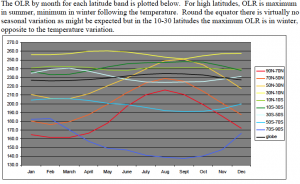 The research uncovers some interesting trends and most importantly highlights that:
1. Earth can only warm if the rate of energy input exceeds the rate of energy loss;
2. Thus earth would warm if energy absorbed from the sun increased or energy loss to space (outgoing longwave radiation or OLR for short) decreased – or of course both;
3. The theory of AGW claims that Earth is warming because rising CO2 is reducing the energy loss to space i.e. is causing OLR to decrease;
4. Thirty years of experimental data published by NOAA (one of the prime AGW reference sites) shows OLR has been rising progressively between 1980 and 2010 and is now 2.5 watt/sqM higher than in 1980; and
5. The period between 1980 and 2010 is when almost all the CO2 induced warming is supposed to have taken place.
"If the corner stone of AGW theory says earth is warming because outgoing long wave radiation is decreasing yet 30 years of experimental data shows OLR is rising (remember 30 years is the time AGW proponents claim is the interval necessary to separate climate from weather) it would seem the theory of AGW is as a minimum extremely seriously compromised."
Read the complete article here: http://jennifermarohasy.com/wp-content/uploads/2013/12/AGW_Falsified_Michael_Hammer.pdf
****
Michael Hammer has a B Eng Sci and M Eng Sci from Melbourne university. His original training was as an electrical engineer but for the last 35 years he has been employed to carry out research across a wide range of technologies for a major multinational spectroscopy company. Over that time he has taken around 20 patents and his work has resulted in a significant number of commercially successful products.
To read older blog posts from Michael Hammer click here and scroll down: http://jennifermarohasy.com/author/michael-hammer/