POPULAR sceptical blogger, Jo Nova, has responded to Labor's defeat in yesterday's Australian federal election with the headline 'Voters crush the carbon tax and corruption – worst Australian government gone'.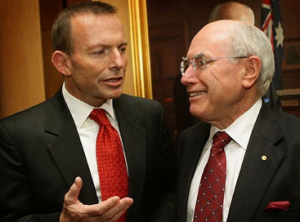 I'm not so sure. It remains my view that the previous Coalition Government lead by John Howard was a disaster, particularly when it came to mismanagement of both the economy and the natural environment.
Indeed the Howard government, of which our new Prime Minister, Tony Abbott, was a senior Minister, was instrumental in introducing a raft of very damaging legislation.
Top of the list is perhaps the renewable energy certificate, an ongoing economic disaster as detailed in an article by Ray Evans and Tom Quirk entitled the 'The Ruinous Privileges of Renewable Energy':
"THE mechanism through which electricity consumers pay greenmail to the owners of windmills and solar panels is the mandatory Renewable Energy Certificate, introduced by John Howard in his 2001 MRET legislation. As James Delingpole explained in the Australian on May 3, writing about the ghost town of Waterloo in South Australia (now depopulated by the impacts of the sub-audio frequency vibrations generated by the nearby wind farm), a 3-megawatt wind turbine, costing $6 million, will be lucky to generate electricity worth $150,000 in a year, but will receive $500,000 in RECs, paid for by the hapless electricity consumer.

"As a consequence of the hostility to rising electricity prices that emerged during the Queensland election campaign, the new Premier, Campbell Newman, like King Canute, declared he would ban any further increases in electricity prices. This problem, however, requires much more purposeful activity by governments than forlorn attempts at price controls. It is now time for the Coalition to prepare itself for an election campaign in which it can put to the electorate a serious program of reform for the electricity supply industry—one which will require the co-operation of the states, but will also require a mea culpa from the Coalition which, under John Howard, introduced this appalling imposition of 'renewable energy' on Australian families and businesses, and to which the Coalition still pays lip service"…
"The Howard government relied on the foreign affairs power to take over the [energy] industry. The corporations power cannot be applied to corporations owned by state governments, and although Howard refused to ratify the Kyoto Protocol, Australia under Keating had ratified the UN Framework Convention on Climate Change, and it was believed (but never tested) that this was enough to give Howard the constitutional authority to take over the industry.
"The companies comprising the industry, whether government or non-government, did not face significant competition from other energy sources; they knew that the prospect of new entrants into the industry (other than wind-farm speculators with good political connections), under the conditions of the huge sovereign risk which now applied to the industry, was zero; and they were secure in the knowledge that the regulators would always allow them to pass on the inevitable price increases. So, provided their participation was profitable, they were happy to participate in the nonsense being foisted by completely ignorant politicians on a rationally ignorant public…
"In 2000 the Howard government's MRET legislation, which required the sourcing of an additional 2 per cent of electricity (or 9,500 GWh) annually from renewable energy sources by 2010, was passed. It comprised the Renewable Energy (Electricity) Act 2000 (REE Act), which obliged Australian electricity retailers to source increasing amounts of their required electricity from approved renewable sources. Other legislation underpinning this scheme was the Renewable Energy (Electricity) Charge Act 2000, and the Renewable Energy (Electricity) Regulations 2001. This unprecedented interference by a federal government in the day-by-day activities of a major industry was administered by the independent Renewable Energy Regulator…
"The Commonwealth's responsibility has been both direct—as in Howard's MRET legislation of 2000 and Rudd's legislation of 2010—and just as significantly indirect, as the continuing attack on coal, both under Howard and more recently under Rudd and Gillard, has made investment in new coal-fired power stations far too hazardous for private investors to contemplate. The MRET scheme, on its own, has led to so-called investments, mostly in South Australia but also in New South Wales, of at least $3 billion in wind farms…
Read more here http://www.quadrant.org.au/magazine/issue/2012/7-8/the-ruinous-privileges-of-renewable-energy