On 8th August 2013, vandals destroyed a Philippine government field trial of Golden Rice (GR).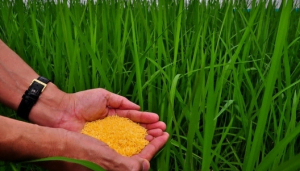 A petition organised by Dr Channapatna S. Prakash, a professor of plant molecular genetics, explains that…
"As the world's population continues its increase, sustainable food production is becoming increasingly challenging. More food must be produced in the next 50 years than has been produced since the invention of agriculture. GM crops are a critical resource in accelerating increases in crop productivity in general, as well as in enhancing their nutritional value to treat malnutrition and nutrient deficiencies. In that context, Golden Rice is a critical resource in fighting the devastating consequences of widespread vitamin A deficiency in developing nations.
"Research on Golden Rice at the International Rice Research Institute (IRRI) is part of their humanitarian work to reduce vitamin A deficiency, a serious condition of malnutrition mostly affecting women and children by causing sickness and leading, in many cases, to blindness and premature death of millions each year. According to IRRI, vitamin A deficiency affects more than 15% of children aged 6 months to 5 years and subclinical vitamin A deficiency affects 10% of pregnant women in the Philippines. Golden Rice, when it becomes freely available to farmers as planned, can substantially contribute to the alleviation of this important aspect of malnutrition…
Read more, and sign the petition, here http://tinyurl.com/lbm7jm2