I'M often confronted, via my Facebook News Feed, with grotesque images of butchered animals and an expectation that I participate in the emotionally satisfying activity of clicking 'like' and thus demonstrating that I'm against animal cruelty and for conservation. I've never once seen something in my Facebook News Feed that promotes the sustainable use of wildlife. Yet this is more likely to contribute to the long term survive of species like the Rhinoceros.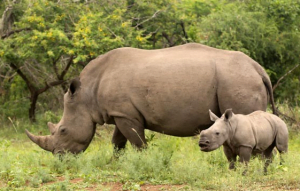 The last few years has seen a dramatic rise in the incidence of rhino poaching. Previously secure populations are now being targeted by aggressive poaching operations, backed by international crime syndicates. Part of the problem is that the legal trade has been banned following campaigning by the ignorant self-righteous.
The illegal trade is driven by the high price for rhino horn because a worldwide trade ban has made rhino horn artificially scarce.
As Michael 't Sas-Rolfes explains:
"Establishing an appropriately structured legal trading regime for rhino horn may provide a more effective and lasting solution to the rhino poaching problem for three reasons:

First [a legal trade] would bring trade out into the open. Market prices would be visible, thereby allowing for continued and accurate monitoring of ongoing consumer demand relative to supply. This would enable governments, conservationists and rhino owners to be far more immediately responsive to changing market conditions. It would also enable them to identify and engage directly with consumers.

Second, by providing a significantly increased and potentially ongoing source of supply, the incentives for speculative stockpiling by criminals would be greatly reduced, if not altogether removed. Furthermore, by meeting the demand at the highly inelastic and persistent 'top end' of the market, the price of horn would almost certainly drop, perhaps quite drastically, thereby reducing the profitability of the illegal market and concomitant incentives for poaching and illegal trade.

Third, by becoming active market participants, legal suppliers of rhino horn gain a new source of income, which they are able to re-invest in improved protection and breeding. Legal owners and custodians also have a significant competitive advantage over poachers and illegal suppliers: defendable legal rights and, in most cases, privileged physical access to and control of their stocks. If necessary, they can even dehorn their animals."
You can read more, including why and how the re-education of people who desire rhino horn production hasn't worked here…
http://www.rhino-economics.com/
An understanding of appropriate mechanisms for the sustainable use of not only rhino, but also elephants and crocodiles, seems to be generally in retreat. The world seems to be spinning away from practical wildlife conservation. Is it inevitable that social media will contribute to a rise in the banning of activities that could contribute to long-term sustainable management and conservation of wildlife, while inadvertently assisting the development of poaching and illegal trade?
***
Further reading …
1. 'The Rhino Poaching Crisis: A Market Analysis' by Michael 't Sas-Rolfes can be downloaded at
http://www.rhino-economics.com/
2. For publications on sustainable use, but with an Australian focus visit
http://www.wmi.com.au/wmi-abst.html
The picture is from http://www.rhino-economics.com/the-illegal-rhino-horn-trade-is-driven-by-greed-and-evil-people/ . And republished here with Michael's permission. Thank you.