SURFACE air temperatures, as measured at weather stations across Australia, are routinely remodeled through a process of homogenization.  After the remodeling of approximately 100 individual temperature series, various area weightings are applied to these individual series, then the average annual temperature is calculated for each state and territory, the entire continent, and used to report climate change.
Issues of concern are the process of homogenization, the choice of stations, the way the homogenized data series are combined, and whether this provides an accurate representation of the historic temperature record for Australia.
There has been no independent assessment of this methodology.  I made a request for the same in a letter to Grant Hehir, Auditor-General of Australia, with supporting information on 11th November 2015.  This requested was rejected without any consideration of the evidence.  I used Rutherglen as a case study, and queried the rational for dropping down temperatures in the early part of the Rutherglen record when their had been no site move or equipment change.  These adjustments turned a slight cooling trend in the minimum temperatures as recorded at Rutherglen, into dramatic warming, as illustrated in this chart.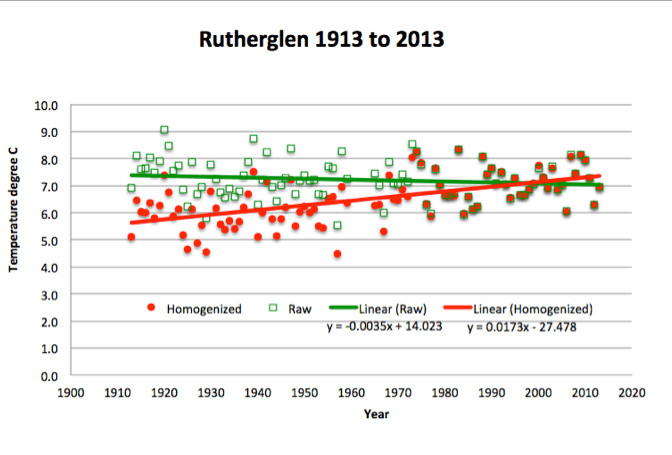 My submission to the Auditor General can be downloaded here.
I am currently working on an alternative temperature reconstrution for Australia.   By the end of the year I hope to be able to publish an accurate reconstruction for the state of Victoria, and also Australia's East Coast lighthouses.