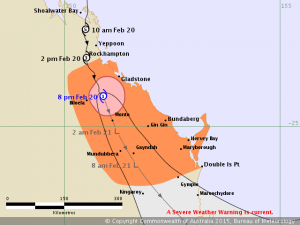 THE Australian Bureau of Meteorology issued a media release last night (19thFebruary) with the headline "Tropical Cyclone Marcia to reach Category 5 system at landfall".    This morning there was extensive media reporting of Marcia having reached landfall as a Category 5.
But where is the evidence?  And who is asking for it?  Like the Bureau, the Australian media seem intent on hyping the event, rather than providing any critical or dispassionate assessment.
The first technical bulletin for Marcia, issued at 4pm today states that, "surface observations have not captured the highest winds," and acknowledges that the minimum pressure so far recorded has been 975 hPa inside the eye wall at 1.30 pm at Rockhampton.
In fact, this central pressure only qualifies Marcia as a Category 2.  As one would expect of a category 2, both Rockhampton and Yeppoon have sustained relatively minor house damage and significant damage to trees.
Just before the cyclone made landfall it passed over Middle Percy Island, to the north of Rockhampton, and the lowest central pressure recorded for the system then was 971.6 hPa at 3.39 am this morning.   A wind gust of 208 km/hr was recorded at 4.30 am, which suggests Marcia was almost a Category 3 at this time, even though its central pressure was never recorded as below 970 hPa.   The central pressure of a cyclone needs to be somewhere in the 970 to 955 hPa range to be a Category 3.
This would suggest that even as Marcia approached the Queensland coastline it was never more than a Category 2.
Indeed the raw observational data available at the Bureau's website would suggest that Cyclone Marcia made landfall just south of Middle Percy Island as a Category 2 approaching a Category 3, but had already weakened to a very ordinary Category 2 approaching Category 1 by the time it reached the city of Rockhampton.
This evidence, however, contradicts the track map at the Bureau's website, and also the extensive media suggesting that Cyclone Marcia made landfall as a Category 5, and was still a Category 3 system when it reached Rockhampton.
The Australian Bureau of Meteorology has been hyping the possibility of a devastating cyclone hitting the Queensland coastline all year.  It forecast that Marcia would hit as a Category 5 cyclone, but where is the evidence?
*******
Thanks to everyone who has emailed me today with best wishes, assuming I was in Yeppoon when Marcia hit.   Our house there is still standing, with some trees down in the front yard.  I was in Brisbane last night, and am now in Noosa.