THE famous Australian poet Henry Lawson wrote, "If you know Bourke you know Australia." For me Henry Lawson was alluding to the vastness of the landscape, the extremes of climate, and also the can-do attitude of its people.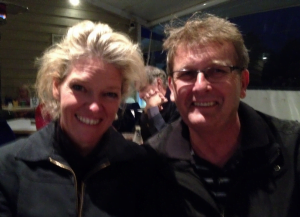 But the technocrats would like to change some of this, and pretend that Australia's climate was once benign.
So, as Graham Lloyd explains on page 5 of today's Weekend Australian, the Australian Bureau of Meteorology have discarded the first 40 years of the temperature record for Bourke. This includes the hottest ever temperature recorded in a Stevenson screen for, I think, anywhere in Australia. A rather hot 51.7 degree Celsius was recorded in a new Stevenson screen in the yard of the Bourke post office on 3rd January 1909.
Mr Lloyd writes:
THESE Bourke records have assumed a new significance in light of concerns about how historic data is being treated at many sites around the country. The records are also important in an ongoing row that frustrates Mr Cole. The Bourke cotton farmer may be managing director of the local radio station 2WEB but Mr Cole can only broadcast temperature records that date back to 2000 because the Bureau of Meteorology won't supply historic records to service provider Weatherzone.
As a result "hottest day on record" doesn't really mean what it seems. "We keep on being told about records that are not actually records and averages that are not quite right," Mr Cole said.
Worse still there are concerns about what has happened to the precision of those handwritten records in the earlier years. Bourke now forms part of a network of weather stations used to make up the national record known as ACORN-SAT. The raw temperature records are "homogenised", a method BOM says has been peer-reviewed as world's best practice and is used by equivalent meteorological organisations across the world.
Independent research, the results of which have not been disputed by BOM, has shown that, after homogenisation, a 0.53C warming in the minimum temperature trend has been increased to a 1.64C warming trend. A 1.7C cooling trend in the maximum temperature series in the raw data for Bourke has been changed to a slight warming.
BOM has rejected any suggestion that it has tampered inappropriately with the numbers. It says the major adjustment to Bourke temperatures relate to "site moves in 1994, 1999 and 1938 as well as 1950s in homogeneities that were detected by neighbour comparison which, based on station photos before and after, may relate to changes in vegetation around the site".
Queensland researcher Jennifer Marohasy, who has analysed the Bourke records, says BOM's analysis is all very well but the largest adjustments, both to maximum temperature series, occurred in the period 1911 and 1915 with a step down of about 0.7C, followed by a step-up between 1951 and 1953 of about 0.45C. Of greater concern to Dr Marohasy is that historic high temperatures, such as the record 51.7C recorded on January 3, 1909, were removed from the record on the assumption it was a clerical error. In fact, all the data for Bourke for 40 years before 1910 has been discarded from the official record. If it were there, says Dr Marohasy, the record would show that temperatures were particularly hot during that period.
For Mr Cole it is a simple matter of trusting the care and attention of his father. "Why should you change manually created records?"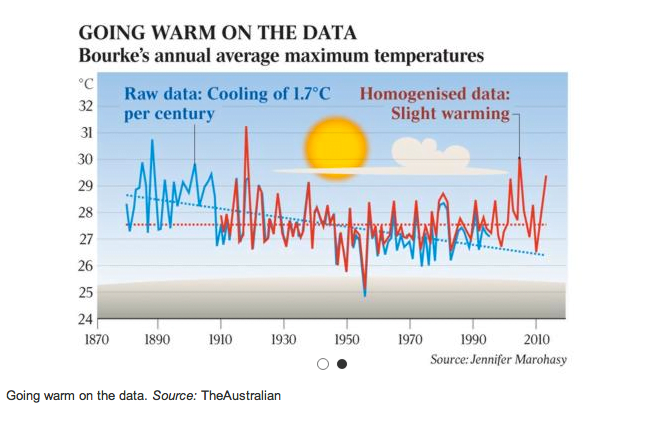 _____________________
From another great story in The Weekend Australian newspaper, buy the paper and turn to page 5, or get an online subscription.
If you would like to hear about how old weather records are changed at other sites, here's a 7 minute podcast from Melbourne radio station 3AW. I'm being interviewed by Tom Elliott.