IF global warming is the greatest moral issue of our time, then the truth really does matter. But this morning, I felt that I had been shut outside, or at least cut-off, without having a chance to tell the whole story.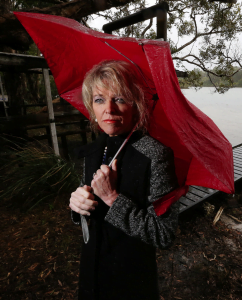 Bronwen O'Shea the host of an ABC radio program for the Goulburn Murray, a region that includes the town of Rutherglen, was interviewing me.
Bronwen invited me on to her program, and also someone from the Australian Bureau of Meteorology to discuss the temperature record for Rutherglen. The Bureau declined.
Bronwen began the interview by suggesting that Bureau have only tweaked the figures for Rutherglen. I disagreed. I explained that the Bureau has actually completely trashed the temperature record by changing what had been a slight cooling trend into warming of 1.73 degree C for the last 100 years.
I also explained that this had been achieved by progressively dropping down the original temperatures from 1973. I wanted to explain that the largest change was back in 1913, with the difference between the actual recorded temperature, and the new official temperature a massive 1.8 degree C.
I was cut-off, before I got to explain too much.
I waited, assuming the line had dropped out. But after no one phoned me back I rang back myself. I phoned ABC Goulburn Murray and was put on hold. Guess whom Bronwen was now interviewing?
Answer: the infamous John Cook, a faux sceptic from the University of Queensland.
Answer: Someone who mentioned the blog site 'Sceptical science' and who I assumed was John Cook.**
Mr Cook
was telling Bronwen that the temperature record for Rutherglen had to be corrected because it was different from everywhere else.
But that is just not true. I haven't looked at all the weather stations for Victoria. But I have looked at trends for all the stations with long continuous records for the state of New South Wales, which is just across the Murray River from Rutherglen.
Most of the inland records show a very similar trend to Rutherglen. In fact, if we consider the raw data for Deniliquin from 1913 through until the end of the record in 2003 we see a similar pattern of cooling.
Deniliquin is not some random choice of my own. It is listed in the Bureau's official station catalogue as being one of three nearest sites to Rutherglen, the other two sites listed are Wagga Wagga and Cabramurra. I will look at the data for these locations in due course.
As detailed in my recent paper to the Sydney Institute: after considering all the locations in New South Wales where there are long continuous temperature records available, I have calculated that the net temperature change for New South Wales shows cooling of 0.021 degree per century. That is the net change for the entire state.
In contrast the BOM claims for NSW that there has been a 1 degree C per century warming.
Before I start doing the calculations for all of Victoria, I suggest you get the complete picture for Rutherglen.
To this end I've just created a dedicated page for Rutherglen and dedicated it to a real trooper and truth seeker, Judy Ryan.
Here's the page…
http://jennifermarohasy.com/temperatures/rutherglen/
Now. Before anyone makes comment at this thread, could I suggest they at least scan the information as provided… sort of the ABC of Rutherglen that I wasn't quite able to communicate this morning on the ABC.
* I have been contacted at my Twitter account to say that it was not John Cook. He apparently even has an alibi. So, sorry for misleading anyone. After I phoned back I was put on hold, and could hear Bronwen talking with someone. I wondered who that was. I heard them recommend the website Sceptical Science and assumed, it now appears incorrectly, that it was John Cook.
—————
Photograph by Lyndon Mechielsen.