JULIA Gillard promised, if she was elected, that there would be no carbon tax. Tony Abbot promised, if he was elected, that he would scrap the carbon tax. But the learned ignorant promote mass action to get their way, all the while claiming tolerance, and respect for democracy.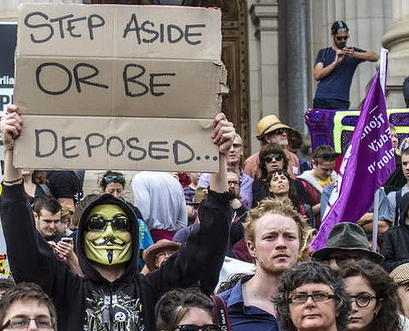 Many of the posters on display at the 'March in March' rallies today, in which tens of thousand gathered in Australia cities to boo capitalists and lament the lack of action on climate change, clearly showed the prejudices of the increasingly vocal, Australian inner city pseudo-intellectual.
As Carl Jung wrote in about 1957, "People go on blithely organizing and believing in the sovereign remedy of mass action, without the least consciousness of the fact that the most powerful organizations can be maintained only by the greatest ruthlessness of their leaders and the cheapest slogans."
******
Link to original photograph of poster with 'step aside or be deposed' from the Sydney Morning Herald http://www.smh.com.au/federal-politics/political-news/tens-of-thousands-gather-for-march-in-march-protest-20140316-34v1x.html
Nick Cater's book, entitled 'The Lucky Culture: The Rise of an Australian Ruling Class', gives great insight into the totems and prejudices of these self-labelled 'progressives'.