IF you know Bourke, you know Australia, wrote the famous Australian poet Henry Lawson. There is something quintessentially Australian about the place, the harshness of the western landscape, a tenacious spirit, the notion of 'a fair go'.
So what would you say if another Australian icon, the Australian Bureau of Meteorology, was fiddling the temperature record for Bourke? I'd call it un-Australian.
But lets not jump to any conclusions!
Lets just ask a few questions in the hope that the Bureau will answer them.
The postmaster started recording temperature at Bourke on 25th April 1871. That was a year after the post office and telegraph departments were amalgamated and meteorologist, astronomy and electrical engineer Charles Todd was appointed Postmaster General and Superintendent of Telegraphs. He was a smart man and a good organiser. Just a year earlier he had overseen the successful completion of the overland telegraph line from Darwin to Adelaide connecting Australia to Europe via Indonesia. By 1877 every Australian state had tapped into this network.
While there is a meticulously recorded daily temperature record for Bourke from 1871, the Australian Bureau of Meteorology rejects this record until 1st January 1910. So when David Jones from the Bureau reports each January on the annual average temperature for Australia, only the data for Bourke from 1st January 1910 is included.
It is claimed that temperatures weren't reliably recorded until after the installation of Stevenson Screens and that this didn't occur at most weather recording stations in Australia until 1910. A Stevenson screen was installed at Bourke in August 1908.
But is the absence of a Stevenson screen really a good enough reason to ignore 40 years of data carefully collected by successive postmasters at Bourke?
It is likely the thermometers at Bourke were kept in a lattice round house or a Glaisher stand or some other type of enclosure. According to the scientific literature, these installations could result in the recording of temperatures up to 1 degree Celsius warmer during summer. So why not just subtract up to 1 degree from all summer temperatures for Bourke prior to August 1908?
Furthermore, the Bureau is not consistent on this issue. While claiming that temperatures not recorded in a Stevenson screen are unreliable and not able to be incorporated into the official Australian temperature record, they then discard and change records for Bourke after the installation of a Stevenson Screen.
The record high temperature of 51.7 degree C recorded on 3rd January 1909, after the installation of the Stevenson Screen, has been expunged from the official record on the basis it must be an observational or clerical error. That is the reasoning given in a 1997 study by Blair Trewin, who now works for the Bureau. He came to this determination after comparing temperatures at Bourke with temperatures as far away as Thargomindah (454km) and Coonamble (364km), all the while ignoring temperatures at nearby Brewarrina (97km), which also set records on that day.
But this isn't the only temperature record that has been changed or removed since the installation of a Stevenson screen at Bourke. Through a process of what the Bureau refers to as data "homogenisation" almost all of Australia's temperature records have been changed in the development of the Australian Climate Observations Reference Network – Surface Air Temperatures (ACORN-SAT). Dr Blair Trewin is actually the climate scientists who oversees the ongoing development of this official data set.
It has resulted in changes to many of the original temperature records for Bourke. For example, a recording of 47.5 degree C on 28th January 1913 has been changed to 46.6 degree C, a recording of 48.3 degree C on the 10th January 1939 has been changed to 47.9 degree C and the list of changes goes on and on.
Why? Why tamper with the original recordings after a Stevenson screen was put in place?
Many ordinary Australians have become increasingly concerned with this fiddling by the Bureau. Ken Stewart, a retired school principal, has undertaken a detailed assessment of the new official temperature data, ACORN-SAT, and shown that the many adjustments can change the entire temperature trend for particular locations.
Let's consider what the Bureau has done just to the hot day data for Bourke by way of some temperature charts. Each dots in the following four charts/figures represents a day where the mean maximum temperatures exceeded, or is claimed, to have exceeded 40 degrees Celsius at the Bourke Post Office. Click on the figures/charts to get a larger and better view.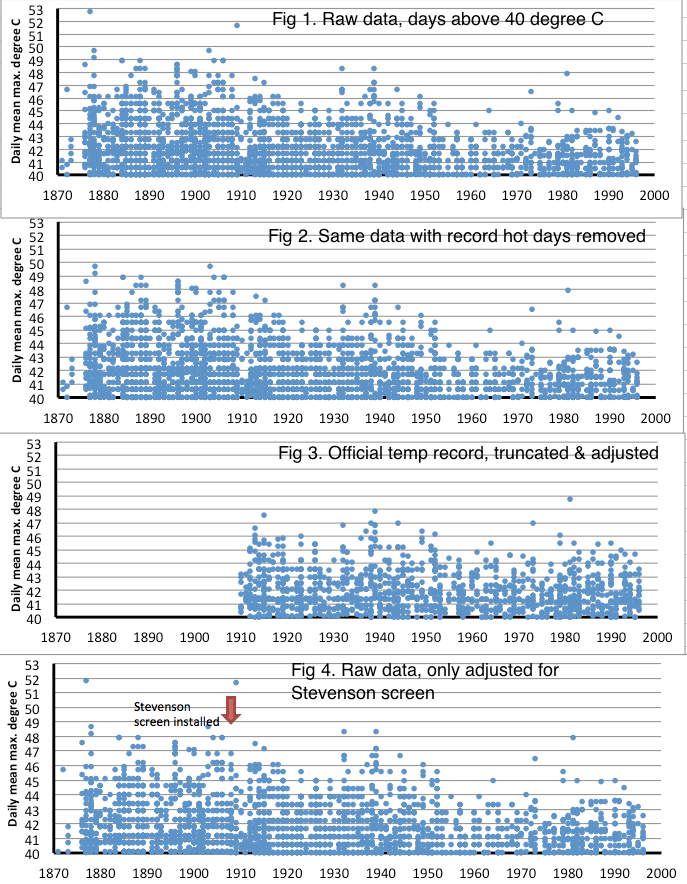 In Figure 1, I have included all the days where temperatures exceeded 40 degrees Celsius from when the Bourke post office started recording temperatures, until the Bureau closed down this temperature recording station in 1996. The spread of dots suggests there were more extremely hot days in the late 1800s and early 1990s.
The Bureau has expunged the extremely hot day recorded in 1877 and again in 1909, claiming the values are too extreme for Bourke. So all the hot days without these values are shown in Figure 2. Then the Bureau, in developing its official ACORN-SAT database, discards all the data before 1910 and then makes more changes to all the data that's left. We don't know the exact methodology used in this homogenisation process. The final result is shown in Figure 3.
If the Bureau just adjusted the data before the installation of the Stevenson screen, by subtracting 1 degree Celsius from all the hot days before August 1908, the hot day temperature record for Bourke would look like Figure 4.
Instead it truncates the data, and then makes adjustments until there is no evidence of a cooling trend. Surely the residents of Bourke, if not every Australian citizen, deserve an explanation.
Read more on this topic…
Part 2, Adjusting maximum temperatures both down and up, and then changing them altogether
Part 3, Shortening an already shortened record
****
Anyone with early photographs of Bourke could have a photograph of the enclosure in the yard at the post office before the installation of the Stevenson screen in 1908. It would be valuable information, knowing just what this was.
It would be also very valuable to compare records from Bourke with temperature records from nearby locations, for example sheep stations, particularly for the late 1870s and early 1900s.
If you have any historical temperature records for the Bourke region, or photographs of enclosures at the post office email me at jennifermarohasy at gmail.com or telephone 041 887 32 22.
Additional Notes, References and Links:
Ken Stewart, ACORN-Sat: A Preliminary Assessment, May 2012. http://kenskingdom.wordpress.com/2012/05/14/acorn-sat-a-preliminary-assessment/
Blair Trewin, Another look at Australia's record high temperature, Australian Meteorological Magazine, volume 46, pages 251-256. 1997. Trewin compares temperatures for Bourke with temperatures for Walgett, Thargomindah, and Coonamble, which are 231, 454 and 364kms from Bourke respectively by road. Trewin ignores temperatures at Brewarrina, which is just 97 km away.
The Northern Miner, Tuesday 5th January 1909 included the following news: "SYDNEY JANUARY 4. The severity of the heat wave is shown by the official returns of the temperatures for the 48 hours ended at 9am this morning. In some instances the records are the highest for thirty years. They include Bourke 125 degrees in the shade. Brewarina 123, Pilliga 123…" Reference in the same article is later made to Walgett recording a temperature of 112. http://trove.nla.gov.au/ndp/del/article/80316601?zoomLevel=6 [125 degree Fahrenheit is 51.7 degree Celsius. 123 is 50.6. 112 is 44.4.] This newspaper clipping was found by Lance Pidgeon.