AUSTRALIAN anarchist and sceptic, Neville Kennard, died last night (Sunday 3rd June) from secondary cancer from a melanoma. Many knew Kennard as one of the brothers who owned and managed Kennards Hire and Kennards Self Storage. Kennard was also one of the first financial supporters and the first Chairman of the Centre for Independent Studies. I knew Nev as an enthusiastic supporter of Socratic dialogue and unconventional wisdom.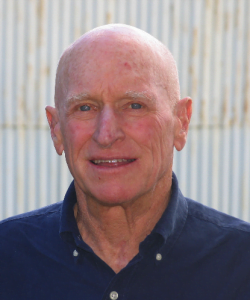 The last time we met was at the Royal Sydney Yacht Club  in November last year. Kennard had invited a small group to dinner there to hear Hans Hermann-Hoppe speak about fiat money.  Fiat money is what Professor Hoppe refers to as irredeemable pieces of paper.  Hoppe talked about the history of money and our current banking system concluding that only a system of universal commodity money (gold), competitive banks (not the current system where monopolistic reserve banks set interest rates etcetera), and 100-percent-reserve deposit banking with a strict functional separation of loan and deposit banking can assure economic stability and present a genuine answer to the current "monetarist fiasco".
I went home that evening with a copy of Hoppe's book: The Economics and Ethics of Private Property, Studies in Political Economy and Philosophy. [1]
It's a great read if you are not frightened of radical ideas. Hoppe's ideas are not new, but based on those of Ludwig von Mises. The work of Mises is often confused with the work of his student F.A. Hayek. Professor Hayek won the Nobel prize the year after Professor Mises's death and while there is apparently little difference in their economics, according to Hoppe, Hayek was philosophically a Social Democrat while Mises a true Laissez-faire radical: an extremist.
I can hear Social Democrats at Australian Universities screaming: but everyone knows that Hayek was a radical Libertarian not a Social Democrat. Not according to Hoppe: Hayek is actually a moderate social democrat, and since we live in the age of social democracy, this makes him respectable.[2]
Kennard was a fan of Hoppe who in turn was a fan of Mises, but not Hayek.
But Neville Kennard read them all, beginning he claims with Paul Samuelson and eventually finding Murray Rothbard. Kennard clearly believed in the importance of the study of economics and economic theory and from every perspective and from first principles.
Kennard also believed fundamentally in sceptical thinking. He called it contrary thinking and encouraged everyone to challenge the conventional wisdom:
"Being curious may bring you back to the conventional wisdom, or it may not; but at least you've arrived there of your own accord and not just followed the crowd. Be a sceptic, a contrarian, an iconoclast even, if you have the where-with-all for it. Most don't, so it will never be a crowded field."[3]
Kennard was someone who liked to sow radical ideas, but in a world where we are increasingly encouraged to be team players. Australian culture encourages conformity and according to Kennard the mainstream media reinforces conventional wisdom:
"The Mainstream Media often establishes and then pours out the Conventional Wisdom. That is their job and that is their market so we should expect little more. The Mainstream Media likes to be dramatic and provoke emotional responses in us. They like to provoke outrage, condemnation, pity, blame, guilt — and sometimes admiration and respect. The content and the presentation is frequently banal and of little depth. So typically there is little to learn from it."
Neville Kennard understood my approach to environmental issues. He visited me when I lived in the Blue Mountains. We discussed solutions to what some consider intractable problems. He understood that almost all environment-related science is now government funded and problem focused and that this severely limits the capacity of scientists to examine important issues from a truly independent perspective and freely publish evidence that may, in some cases, be contrary to current government policies.
Furthermore, when scientists do buck conventional wisdom, the mainstream media will either ignore them or condemn them.
As upset as some may be to hear F.A. Hayek described as a Social Democrat, I am upset every time I hear the mainstream media announce a new government-funded report in support of one or other state-sponsored belief (like global warming), as independent. As Kennard would attest: there is nothing independent about government or government funding.
Kennard agreed with my assertions that we have a problem today because if economics and environmental science is not conventional, tidy and government-funded, it is automatically distrusted. It is as though government is emerging to take the place the Catholic Church once demanded as the depository and arbiter of all knowledge. Kennard understood that consensus science is perhaps the best and most obvious example of this.
Neville Kennard didn't believe in chaos or disorder, but called himself an anarchist. Kennard claimed that the traditional meaning of the term was simply to be "without a ruler". Conventional wisdom says that democracy is better than anarchy. But Kennard was even brave enough to challenge the ascendancy, the superiority, the unchallengeable rightness of democracy:
"Democracy may or may not be superior to other forms of societal and political organisation, but it is more interesting to question it than to blindly accept this, or any, orthodoxy. What is also interesting is to ask someone to define what they mean by democracy: you will get some interesting answers. And what is curious about this widely accepted belief in the superiority of democracy is that in the recently released Heritage Foundation's Index of Economic Freedom for 2010 the two countries that are numbers 1 and 2 respectively Hong Kong and Singapore… both offer the best economic freedoms in the world without what would be called any or real democracy."
Kennard was not only an anarchist but also a very successful businessman interested in many things including the environment, but especially economics and economic philosophy. He wanted to be successful and make money according to conventional wisdom, but he also cared about economics because he cared about the real world, and wanted to make it a better place for everyone. Towards this end he wanted us to think long and hard about the potential value of radically different political and economic systems.
To the end Neville Kennard was a persistent radical. He may have died yesterday, but his ideas and his enthusiasm will persist yet.
****
1] See also Chapter 6, The Economics and Ethics of Private Property: Studies in Political Economy and Philosophy, 2nd Edition. By Hans-Hermann Hoppe, Ludwig von Mises Institute, Auburn, Alabama. 2006.
2] Why Mises (and Not Hayek)? By Hans-Hermann Hoppe, October 10, 2011. http://mises.org/daily/5747
3] Read more from Neville Kennard here:
http://economics.org.au/staff/neville-kennard/