Open Thread
Posted by jennifer, August 14th, 2013 - under News, Opinion.

I believe that a scientist looking at nonscientific problems is just as dumb as the next guy.
Richard P. Feynman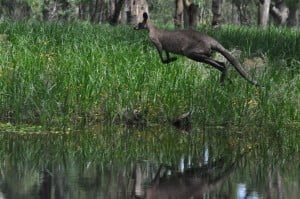 Photograph of the kangaroo taken in the Central Murray Valley by Faye Ashwin [click on the image for a larger/better view].
Advertisement
323 Responses to "Open Thread"
Pages: « 1 2 3 4 5 6 [7] Show All
Pages: « 1 2 3 4 5 6 [7] Show All
Leave a Reply